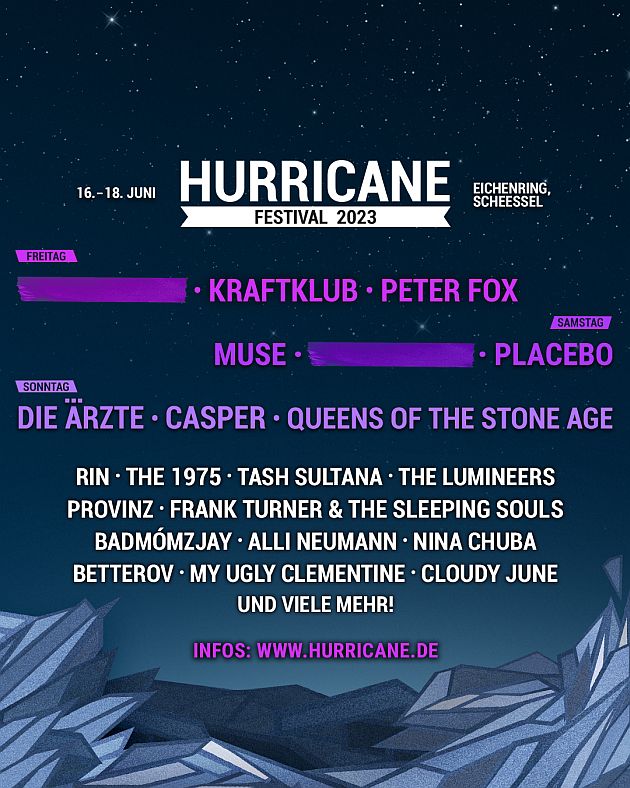 The first names for the Hurricane and Southside Festival from June 16th to 18th, 2023 have been confirmed: With MUSE, DIE ÄRZTE, PLACEBO, QUEENS OF THE STONE AGE, KRAFTCLUB, CASPER and PETER FOX, organizer FKP Scorpio has confirmed the coming of music legends from Germany and the world. In addition, twelve other big names and exciting high-flyers have been announced for the twin festival in Scheeßel and Neuhausen ob Eck.
MUSE is one of the most influential voices of our time. With their recently released number one album 'Will of the People' and a lavishly staged live show, the British icons around Matthew Bellamy have left no doubt that they will continue to be ground-breaking and innovative in the future. DIE ÄRZTE have also left their mark on the music landscape. Perhaps most impressive of all their successes is that the trio, which celebrates their 40th anniversary this year, has been on the side of good for four decades: loud at the right moment, always socially involved and, especially on stage, always careful to express themselves not resting on one's considerable laurels.
With their latest album, PLACEBO have impressively proven that their musical journey is by no means over. The sound of the number one record evolves the band's sound without neglecting the characteristics that made it great. The fans at the Hurricane and Southside Festival can expect anthemic Alternative rock, which combines electronic influences with guitar riffs and is still consistently striving for the future. QUEENS OF THE STONE AGE are also famous for their acclaimed live performances. But there are also plenty of other accolades in the form of legendary venues, chart successes and Grammy nominations in more than a quarter of a century of band history. Despite all the successes and innovations, the Californian band has always remained true to itself: Alternative Rock that goes forward, consistently and especially live.
There is no pigeonhole for the work of KRAFTCLUB: The five-piece Rap-Rock formation from Chemnitz happily crosses musical boundaries and celebrates the intelligent escalation as catharsis. The band has just released a new album and paralyzed the Reeperbahn with a spontaneous live concert - good omens for their shows at the Hurricane and Southside. Even CASPER, whose latest album hit number one again, has a reputation that precedes it. Quality pays off: His lyrics are elevated to the lyrical in their intelligence and complexity, and his voice is unmistakable anyway. Coupled with a live presence that is second to none, his shows guarantee intense concert moments.
PETER FOX is also an accomplished word artist who wrote music history with SEEED and is still chasing records. We also owe his solo career legendary songs that are still popular in clubs across the country. At his own request, it became quiet about his person - so one can rightly be curious what the Berliner has to say after his solo break. Other influential voices are also guests: RIN, THE 1975, TASH SULTANA, THE LUMINEERS, PROVINZ and FRANK TURNER & THE SLEEPING SOULS will deliver unforgettable shows - as will BADMÓMZJAY, ALLI NEUMANN, NINA CHUBA, BETTEROV, MY UGLY CLEMENTINE and CLOUDY JUNE, who despite their musical differences have one thing in common: great success, which is absolutely justified.
More acts will be announced soon. Tickets at the current price level are available until October 5 at 11:59 a.m. on the Hurricane and Southside festival websites. After that, the next higher price level begins.
Confirmed so far:
Muse | Die Ärzte | Placebo | Queens Of The Stone Age | Kraftklub | Casper | Peter Fox | RIN | The 1975 | Tash Sultana | The Lumineers | Provinz | Frank Turner & The Sleeping Souls | Badmómzjay | Alli Neumann | Nina Chuba | Betterov | My Ugly Clementine | Cloudy June
More acts to be announced soon.
Source: Press Release