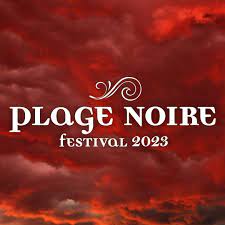 PLAGE NOIRE 2023 will take place on April 28 and 29 at Ferien- und Freizeitpark Weissenhäuser Strand. After the first bands for the PLAGE NOIRE 2023 were announced last September, further acts and the announcement of the play days and the supporting program are now to follow.
FIELDS OF THE NEPHILIM were already confirmed during the 2022 edition of PLAGE NOIRE. The appearances of BLUTENGEL and LACRIMOSA were announced with the first wave of bands in September. And now, with NITZER EBB, there is another headliner. The EBM legends from England will conclude the PLAGE NOIRE 2023 on Saturday evening.
The British Synth Pop duo MESH has been in the business for more than 30 years and will provide danceable rhythms on the second day of the festival. With FRONT LINE ASSEMBLY, a legend of the Industrial dance scene could be won. The German music project ROTERSAND also joins the line-up. The musical program is completed by the acts PRIEST, TVINNA, SOULBOUND, BEYOND OBSESSION and JEREMIAH KANE. The latter were inspired by the video game generation of the 80s and the Cyberpunk genre when they were founded.
In addition to the musical highlights of the festival, there will be an exciting supporting program in the coming year: with author CHRISTIAN VON ASTER, a popular regular guest of the festival could be engaged. He reads from his current works. For the first time, THOMAS KUNDT is a real crime scene cleaner who will report on his everyday work. The festival guests can also look forward to surprising productions related to the festival legend, aesthetic fashion walks, interesting workshops and the Gothic Bazaar.
All festival information are bundled at plagenoire.de. Tickets are available on the booking hotline +49 (0)1806 006660 (€0.20/call from a German landline, mobile max. €0.60/call) or at plagenoire.de/tickets. Day tickets without overnight stays are new on sale: tickets for Friday or Saturday are available
Confirmed for PLAGE NOIRE 2023

Friday: Fields Of The Nephilim | Blutengel | Ost+Front | Rotersand | Assemblage 23 | Unzucht | Tyske Ludder | Centhron | J:Dead | Corlyx | Suzi Sabotage
Saturday: Nitzer Ebb | Lacrimosa | Mesh | Zeraphine | Front Line Assembly | Diorama | Noisuf-X | Heimatærde | [X]-RX | Priest |Tvinna | Soulbound | Die Selektion | Beyond Obsession | Jeremiah Kane | Mental Exile
Source: Newsletter / www.fkpscorpio.com