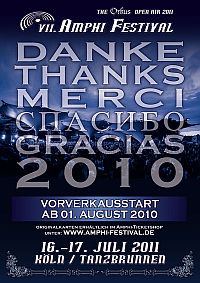 On Friday 23rd July 2010, the "Amphi Festival - New Talents Special" took place at the "Theater am Tanzbrunnen" in Cologne. Beginning at 8 pm, four talented bands stepped into a musical competition for the opening position of the Amphi Festival 2010. After each of the participating bands had to secure their starting position through an Ebay auction, it was up to the audience to decide the outcome of the evening with a small donation. In the end ZIN from Leipzig took a clear victory over Boundlezz in second place. Divamee and Novus UK occupied the further ranks.
Apart from the shows and the search for the newcomer of the Amphi Festival 2010, the evening focused on the fight against children abuse and the support of its victims. While the band Divamee for example works up the topic in their musical efforts, one winner of the event was already known from the beginning: "Dunkelziffer e.V."! Like the collection of the evening the donations from the Ebay auctions were raised in favour of the association, supporting victims of child abuse. Until the result was announced shortly after midnight, 2.646,38 € came together this way, which the Amphi Festivals initiators, Kai Lotze and Marco Göthel, increased to a total of 3.000,00 €. As a special recognition for the sold out Amphi Festival they also stepped back from their agreed share for covering the production costs of the evening and presented a check with the full amount of 3000,00 € to Jasmin Falck, representing "Dunkelziffer e.V.".
The entire Amphi Festival Team thanks all bands, visitors and supporters who made this project possible with their tireless efforts and donations, giving the victims of child abuse the opportunity for a valuable step out of their darkness.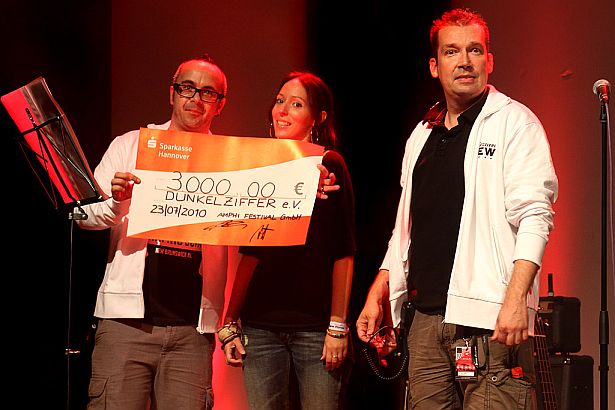 Source: Press Release