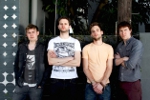 Halfway To New York (HTNY), the convention-cracking British indie/rock band who burst onto the UK music scene last autumn with their debut single 'Out of Time' amidst a cascade of critical media acclaim, are back with an even more impressive musical serving in the form of their debut EP 'Treading Water', released on 21st May.
These talented guys are also living up to their name having exported their sound across the pond for showcases to industry moguls in LA in February (including an appearance at The Viper Rooms). With a solid and loyal fan-base that's rapidly snowballing, HTNY have decided to give the fans what they've been asking for and release a full-bodied, kick-ass EP, loaded with 6 outstanding tracks.

From the gritty, raw rock-rollercoaster of the title track 'Treading Water' to the crowd-anthems 'We Were Wrong' and 'What A Way To Go', this EP will be a highly treasured gem in the collections of all HTNY fans. The EP also includes the band's debut single 'Out of Time' which was mixed by Simon Gogerly, Grammy award winner for U2s 'How to Dismantle An Atomic Bomb,' as well as a couple of surprise bonus tracks which are fresh out of the studio.

'Treading Water' – the EP - full track listing is as follows:
Treading Water
We Were Wrong
What A Way To Go
Out Of Time
Going Home

As the band commented, "We've decided to release an EP because that's what our fans have been asking for. We could have released another single but they kept telling us that they wanted more than that - they've given us amazing support over the last couple of years so we thought it would be great to put together a record of our favourite songs so far. As a bonus we've put a brand new track on there called 'Going Home', as a taster of what's to come in the future. 2012 is going to be a very exciting year..."
For those not yet familiar with the HTNY phenomena, be prepared for a razor-sharp and highly skilled band, with unrivalled vocal and song-writing talents. With a highly chiseled image that adds vibrant colour to a sound and on-stage charisma that's ripping-up audiences nationwide. Individually the musical CV of each band member is highly enviable – together their combined talents are simply awesome. Garnering comparisons to a fusion of The Doves and Snow Patrol, with a seasoning of Stereophonics for good measure, HTNY are producing a sound that's set to find its place amongst some of the genre's timeless classics.

The past six months have been a whirlwind for this incredible band. Having been hand-picked by Live Nation from thousands of bands to appear as one of their featured new artists, their music was exposed to over 15 million music fans through We7, SubTV and the Ticketmaster/Live Nation database and e-newsletter.

Smart, sharp and determined, HTNY are a red-hot property that are pushing almost every musical boundary beyond all known limits. Halfway To New York – they quite literally are, but treading water they most certainly aren't. 'Treading Water' the EP is HTNY's gift to you – indulge in this indie/rock triumph.

Source: Press Release