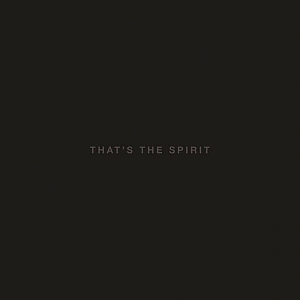 BRING ME THE HORIZON founder and front singer Oli Sykes is only 28 years old and still the British Metalcore formation is releasing its fifth long-player 'That's The Spirit' on 11th September 2015. The eleven songs were created by Sykes and BMTH keyboardist Jordan Fish in the Black Rock studios on the Greek island Santorin where among others, Joe Bonamassa, Steve Harris, OneRepublic have recorded in the past. The quintet from Sheffield has already released three songs in advance: on 12th July, 'Happy Song' was released which immediately reached the top of the UK rock and metal charts and only recently did 'Throne' follow as a second output. Furthermore, the to-date biggest BRING ME THE HORIZON hit 'Drown' is among the tracklist which reached position 17 of the British charts in October 2014.
'That's The Spirit' is the follow-up of 'Sempiternal' which was released in April 2013 and which reached position three of the British and position eleven of the US-charts. Sovereignly did the long-player (like its predecessor 'There Is a Hell, Believe Me I've seen it. There is a Heaven, Let's Keep it A Secret' in 2012) reach the album hit list in Australia.'Sempiternal' which brought forth among others singles like 'Shadow Moses' and 'Sleepwalking' peaked to position 22. The record was sold 650,000 times worldwide so far.
The fans' desire for the new record is enormous: immediately after the pre-order beginning, 'That's The Spirit' reached the top ten of the iTunes charts in seventeen countries, among others position five in Great Britain, position ten in the US and position two in Australia. The singles 'Thrones' and 'Happy Song' have registered 4.7 billion streams worldwide so far and the "pseudo video" for 'Happy Song' has more than 5,. billion views on vevo.com.
Lyric Video for 'True Friends':
https://www.youtube.com/watch?v=OspMhtXBLVc
An extensive Europe tour is planned for November.
Source: Press Release