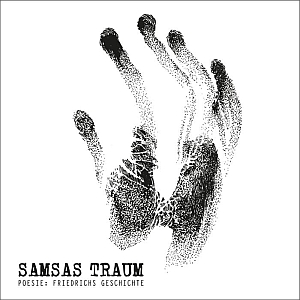 SAMSAS TRAUM have confronted us with extraordinary music and interesting texts for 19 years. The band around the controversially discussed and charismatic front man Alexander Kaschte had a fling at every possible style and are among the last German formations who know how to surprise in a musical landscape which is perishing into trifle and dullness – qualitatively as well as textually. 'Posie: Friedrichs Geschichte' is such a surprise: a thematically difficult quantum leap which is more bombastic than ever before and which sounds scrupulously like SAMSAS TRAUM because of that, an hour of musical art which one won't forget quickly. As the title already reveals: Friedrich's story is told, the story of a boy growing up in National Socialism whose passion is the writing of poetry. As a person who is classified as maladjusted by his milieu and schizophrenic by doctors, he is befallen with the destiny of numerous other disabled or mentally ill people – his life is ended in the name of euthanasia in the NS killing centre Hadamar in the most horrible way.
With 'Poesie: Friedrichs Geschichte', KASCHTE, in whose music and texts political and ethical topics have increased in the last years, says goodbye to the nebulous, egocentric and almost nauseating, meaningless world of musical subcultures; a goodbye that has been long overdue. KASCHTE who is not only eager to entertain his target group but to also educate it and share knowledge with it, has finally arrived at a place where he is safest, at a place which the fewest can bear: reality. The crystal clear production of 'Friedrichs Geschichte' which is owed to the Principal Studios (Unheilig, H-Blockx, Die Toten Hosen, Kreator) underlines this evolution impressively and becomes the album.
'Poesie: Friedrichs Geschichte' is released as a CD in a jewel case and as a limited 2CD in a digi-book special format. The limited edition contains alternative instrumental versions of numerous songs of the album on its second CD, the 40-pages booklet contains all lyrics and doesn't only shine with a depressing graphic concept by ANASTASIA KASCHTE.
Tour
13.11. Mannheim, Alte Seilerei
14.11. Hamburg, Markthalle
15.11. Hanover, Musikzentrum
17.11. Munich, Backstage Club
18.11. Erfurt, From Hell
19.11. Berlin, C-Club
20.11. Bremen, Tivoli
21.11. Bochum, Matrix
24.11. A-Vienna, Szene
25.11. Aschaffenburg, Colos-Saal
26.11. Nuremberg, Hirsch
27.11. Glauchau, Alte Spinnerei
28.11. Singwitz, Kesselhaus
Source: Press Release