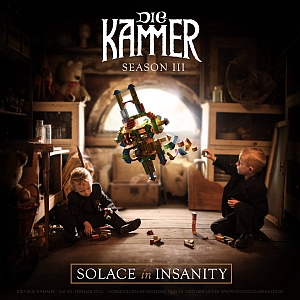 There is a lot of hustle and bustle in the production place of DIE KAMMER (engl.: The Chamber), a unique and also peculiar acoustic band that is about to complete their third long player. The new album will be released on February 5, 2016, and is entitled `Season III – Solace in Insanity´.
However, before the promised solace in insanity gets to us, there is extensive fiddling and tuba playing, picking and hitting, whistling and harping, ringing and rattling, Schrammel music, ticking and clattering, and of course also singing in the studios of the KAMMER-sound-factory. The pointer of the level meter trembles in the red sections, the membranes flutter. All machines are full speed ahead; the steam boilers are under high pressure. The musicians of the KAMMER are driven by the obsessed headmen Ambré and Testory as they are groaning, moaning, sweating and slogging their guts out until all recordings are done to everyone's full satisfaction. That is how one might visualize the still ongoing work on the record.
Next to the familiar KAMMER-orchestration, there are also some truly amazing guest instrumentalists on the new album. For example, listeners can look forward to true barrel organ music, music clocks, and other remarkable sounds. And that is how many small acoustic building blocks are put together, enriched with the magic of hand-craft, coming together to a large opus, a musical air-build castle, which we can hopefully soon explore!
On Monday, October 19, the second KAMMER-Crowndfunding-Campaign started under the slogan "Patron of the Arts" (see shop of the label Delicious Releases at
http://www.delicious-releases.de/PATRON-OF-THE-ARTS/PATRON-OF-THE-ARTS-91711.html
or go directly to
patron-of-the-arts.com
). All proceeds will be used for the production of the new KAMMER-record. In support of the upcoming album one can preorder the record in various combinations. In addition to that, there are further fancy extras, such as the chance to sing along in the background choir on the album, exclusive tickets to join in rehearsals and sound checks, unique and used artwork elements, and of course a very special show in your own living room. Many of the bonus extras are limited in number, so be fast! For the first time a KAMMER-CD is also going to be released as a collector's box, which offers a bonus CD featuring renowned and very special guests next to the CD in digipak. Furthermore, you can find a richly illustrated making of booklet and an autographed, numbered certificate of authenticity. All of this is packed in a gorgeous box. And there is more to come, for there is another premier: DIE KAMMER's new album is also available on vinyl for the very first time!
In February DIE KAMMER are going to present their new songs live. Obviously, you will also get to hear many iconic songs from `Season I´ and `Season II´. LISA MORGENSTERN is going to support DIE KAMMER on their tour.
DIE KAMMER Live in Germany
Feb 2, 2016 – Moritzbastei, Leipzig
Feb 6, 2016 – K17, Berlin
Feb 18, 2016 – Logo, Hamburg
Feb 19, 2016 – Das Bett, Frankfurt
Feb 20, 2016 – Luxor, Cologne
Mar 4, 2016 – Kon71, Nuremburg*
Mar 5, 2016 – Puschkin, Dresden
Mar 11, 2016 – Sudhaus. Tuebingen*
*no support
Additional Concert Information
Leipzig, Hamburg, Frankfurt, Cologne, Nuremburg, Dresden, and Tuebingen: Doors at 7pm, Starts at 8pm
Berlin: Doors at 8pm, Starts at 9pm
Tickets: from 18.30€ available at
www.eventim.de
,
www.delicious-releases.de
, or
www.headlineconcerts.de
Source: Press Release