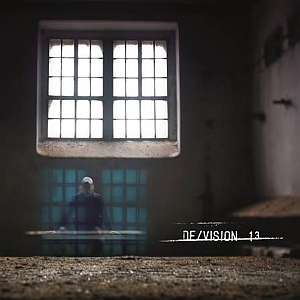 Berlin's Electro Pop formation DE/VISION has been active since 1988 and are counted as one of the quality acts in their genre. Their 13th album holds the humble title '13' in which they know how to combine seductive melodies with fiery refrains which never lose their analogue roots despite being a reflection of the present. Nevertheless, change did dominate the new album – a change which goes back to its synth pop roots with which they once conquered the scene and gained their devoted fans.
After 12 years of relentless cooperation, they separated with the producer team Schumann & Bach and have found in Ken Porter a producer who has already shown his affection for DE/VISION with remarkable remixes (among others, 'Aimee', 'Flavour of the Week' and 'Flash of Life') and who was the right choice for the change. Stan Cotey, who has already worked on the last Intuition record 'Berlin Sky', has also joined the team. Already the opener and single 'Who Am I' is ground-breaking in which Steffen's semi-deterred voice correlates with the peculiar synth sound. The result is something which unsettles the usual synth pop sound but remains a sound which is worthy to be played in clubs.
'13' is generally an album of balance where one can find groovy sounds like 'Whom am I' but also calmer sounds in 'Starchild' or 'Prisoner'. DE/VISION continue their trend of tousling mainstream synth pop and give their songs the freedom they need. Consequently, they create their own unique, outstanding sound within the genre, as Steffen explains:
"Our songs need air to breathe, they should be able to develop. Thus there are always some minutes coming together quickly".
This can be detected especially on both instrumentals. 'Transit' is a personal, emotional reflection on the migration question which has influenced Germany a lot in the last few years.
DE/VISION go with the zeitgeist and Thomas has contributed many texts to this contemporary issue which is interrelated with racism and terrorism. ''Essence'' and ''Where is the Light?'' are not directly about the migration question but where inspired by what this question has caused in some parts of society. On one hand, there was a enormous readiness to help but on the other hand, the ugly side also became visible as refugee camps were set on fire and many died in the Mediterranean. Furthermore, the band also dedicates its songs to technological developments and methods of surveillance and repression, which have also been big topics in the last few years. Their personal observation is that the boundaries between right and wrong are diminishing as well as the boundaries between good and evil – all that matters is power.
'13' is proof that even despite a long career, there will always be things that will modify the sound of a band – music goes along with its time but becomes a product for eternity. DE/VISION have created a powerful record which shines with diverse but clearly structured arrangements, thoughtful lyrics and hypnotic melodies. It will be released in different versions on 27th May 2016.
Tour dates

22.04.2016 Leipzig, Werk II
23.04.2016 Berlin, Lido
03.06.2016 Hecklingen, Löderburger See (Open Air)
31.07.2016 Bolkow (PL), Castleparty
08.10.2016 Hamburg, Markthalle
14.10.2016 Erfurt, HSD (Gerwerkschaftshaus)
15.10.2016 Frankfurt, Das Bett
28.10.2016 Oberhausen, Kulttempel
29.10.2016 Munich, Backstage
26.11.2016 Dresden, Kleinvieh
02.12.2016 Hanover, Musikzentrum
Source: Press Release