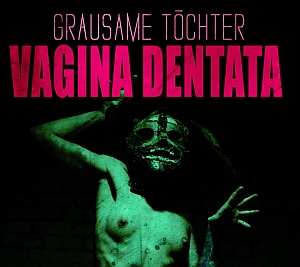 "Darker, deeper, hotter" - going down and danger is lurking! "Vagina dentata", the teethed cavern, the gate to hell, the lethal femininity is an ancient myth, reintroduced and reinterpreted by the famous psychoanalyst Siegmund Freud as fear of castration. "Vagina dentata" is the title of the fourth album by Aranea Peel's "Grausame Töchter" and constitutes another significant artistic advancement of the band. All of the 15 powerful tracks on this album revolve more or less clearly around that subject; the lyrics are in parts homicidal, sexual, obsessive, sadomasochistic and sometimes nightmarish, but also implicitly offer the hope of liberation, of sensuality, self-determination and lightness.
Aranea Peel seems to take quite a liking to water as evident in the presence of the sea with all it's sometimes bizarre creaturesthat are featured in many songs as symbols of freedom and lust. In "Wie eine Krake" (Like an Octopus) for example the sea creature lives in freedom, lust and chaos while the sailor on the surface anxiously tries to get across this chaos but of course is doomed to fail. This song is probably most representative of the general spirit of the album. Stilistically this album like the previous albums of the girlgroup offers an amazingly wide array of styles: electropop, electropunk, EBM, industrial, electrorock and even chanson, tango and bizarre circusmusic. E-Guitar and baritone-guitar, often with a 1960s style bandecho, are much more present in "Vagina Dentata" than in previous albums. Accompanying bass guitar player Era Kreuz is the Berlin based guitarist Valeria Ereth who recently joined the band and already has been touring with them across Europe for a few months now.
The most extraordinary tracks musically would probably be "Die ganz Welt ist ein Zirkus" (The entire world is a circus) and "Nordsee-Tango" (Northsea-Tango) where a lot of guest musicians with brass and percussion instruments joined the band, probably a result of Aranea's love of chansons. The most catchy tunes however are the more danceable tracks like "Annika ist tot" (Annika is dead) and "Ich liebe meineVagina" (I love my vagina). On this their fourth studio album, Grausame Töchter prove themselves as a band that has developed it's unique style with intelligence and freshness, confidently going their own unique way in a world of otherwise interchangeable commercial music, which gives these girls their own distinctive image.
Tracklist
01. Vagina dentata
02. Liebe will Beweise
03. Ich liebe meine Vagina
04. Wie eine Krake
05. Annika ist tot
06. Tor zur Hölle
07. Los, Schlampe, ficken geht immer!
08. Die ganze Welt ist ein Zirkus
09. Fleisch für die Hyänen
10. Nordsee-Tango
11. Fette Katzen
12. Angst entstellt den Menschen
13. Perverse Mädchen
14. Sisyphos will vögeln
15. Vagina Dentata (Xotox Remix)
SCANNER - CD Album Jewel Case / Limited Edition (2CD)
CAT. Nr.: SCAN 123
Rel. Date : 6th May 2016
Source: Press Release