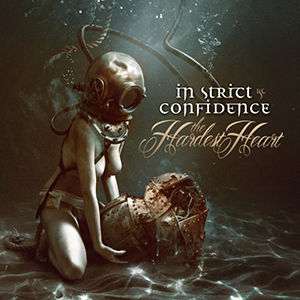 You need one thing when it comes to new In Strict Confidence album releases: patience. Although we could have shortened the wait, we compensated for the delay with two preliminary singles. They fell nicely into place in a wide musical range of the new fulltime-masterpiece. The perfect combination of classic electro/EBM elements in "Everything must change" particularly impressed the early fans, while "Somebody else's dream" had a dramatic alternatively-emotional impact. All signs pointed to the fact that we can focus on our own strong points, we can focus on well-known classics and, while pushing the doors open, we can make our way forward.
The 12 new tracks are more heterogeneous than ever and allow the listener to dive into a mix of emotions. They are electronically aggressive, deeply melancholic and boldly danceable. They are supported by profound texts put forward by Dennis Ostermann, the vocally poignant frontman who is in the best shape ever, while two tracks are graciously delivered by his female counterpart, Nina de Lianin.
The album is available in three formats. Besides the standard Digipak version, a double CD box including the classic 1997 album "Face the fear" on an MC/cassette is available, accompanied by various giveaways (ISC condom, two pins, a collection of stickers and postcards). For the first time, together with the two LP 12″ in gatefold cover (limited release – 500 copies), an ISC album on vinyl is available, including bonus tracks and a download code. Starting November 25, 2016 they will be available for purchase.
GET CD:
www.instrictconfidence.com/SHOP
GET MP3:
www.instrictconfidence.bandcamp.com/MUSIC
Live:
26.11.16 D - Löbau/Görlitz, Depeche Mode Party-Festival
17.12.16 BE - Waregem, Dark X-Mas Festival
11.02.17 FI - Helsinki, Gloria
25.02.17 D - Heidelberg, Halle02
18.03.17 D - Oberhausen, E-tropolis Festival
16.07.17 PL - Bolkow, Castle Party Festival
31.3./1.4.17 D - Berlin, OutOfLine Weekender Festival
Clips:

https://youtu.be/9lf6VXld2f0
(" Somebody Else's Dream")
https://youtu.be/NAnsxlvfkx4
("Everything Must Change")
Website:

http://www.instrictconfidence.com
/
https://www.facebook.com/instrictconfidence



Source: Press Release