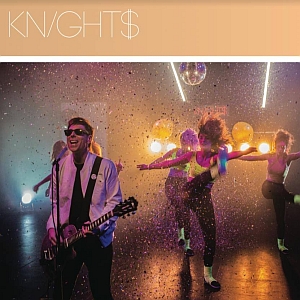 KNIGHTS is a UK artist with a knack for penning some memorable electro anthems. Whether with a full band or simply stripped back with a pianist, KNIGHTS delivers. With one foot firmly in the present, and a discerning knowledge of music's past, KNIGHTS might just be the newcomer to occupy your sound system into 2017.
Cutting his teeth in projects such as Scarlet Soho and Boytronic, KNIGHTS has made a name for himself. Previously touring Europe alongside Zoot Woman, IAMX and The Faint, he's also headlined The Under The Sky stage at the Montreux Jazz Festival in Switzerland, and co-wrote the lead track for the German movie Bauernfrühstück in 2011, where he duetted alongside German classical vocalist Isgaard (Schiller).
KNIGHTS started working on What's Your Poison? in 2016, alongside producer Martin Dubka (Tesla Boy/Tyson/Ali Love) in Hackney, London.
Even after a short time in the studio Dubka and KNIGHTS developed an almost telepathic understanding. It was clear the initial tracks needed to be concise, with super strong stick-like-glue melodies. KNIGHTS would programme the midi, with Dubka working overtime, patching in an array of vintage analogue synthesizers and getting the sounds just right. They would occasionally stop for coffee, listen to "Time To Move" by Carmen, and swiftly move on. By the time they were finished, KNIGHTS knew he had something pretty unique on their hands!
KNIGHTS holds undeniable magnetism live, but there's a palpable substance to all he turns his hand to. Just when you think you have this guy sussed, he will offer you something different, something you never saw coming.
It's pop Jim, but not as we know it!
LIMITED EDITION (250) FOUR TRACK ORANGE VINYL EP/CD AVAILABLE from
KNIGHT$ bandcamp
.
KNIGHTS tourdates
Nov 3 - The Brook, Southampton, UK (piano set)
Jan 6 - Matrix, Bochum, DE (w/Melotron)
Jan 7 - Das Bett, Frankfurt, DE (w/Melotron)
Jan 13 - Talking Heads, Southampton, UK
Jan 14 - Dark Disco @ Charterhouse, London, UK
Jan 20 - Moritzbastei, Leipzig, DE (w/Melotron)
Jan 21 - Lido, Berlin, DE (w/Melotron)
KNIGHT$ facebook
Source: Press Release