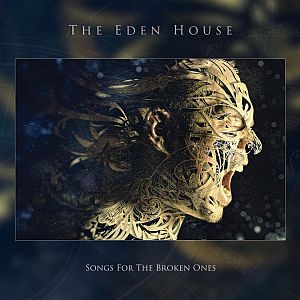 THE EDEN HOUSE is a collaborative musical project, initiated by Stephen Carey and Tony Pettitt (Fields of the Nephilim), and involving a collection of guest musicians and vocalists. The project already released two long-players, as well as two mini albums. On their third album 'Songs For The Broken Ones' they worked together with Monica Richards. The eco-activist of the Washington DC punk scene is known worldwide as a member of the band FAITH & THE MUSE. One of her last EDEN HOUSE tracks, which she had worked on, already gained great popularity on the current "Yu-Gi-Oh!" Soundtrack, a Japanese anime series. The album will be released on June 16 via Jungle Records / Rough Trade.
A first album trailer: https://www.youtube.com/watch?v=kw6dUEyoSDc&feature=youtu.be
Other singers on the new album are Lee Douglas from ANATHEMA, Louise Crane, Meg Pettitt and Kelli Ali from the SNEAKER PIMPS. Among the instrumentalists are Bob Loveday of PENGUIN CAFÉ ORCHESTRA & Van Morrison and Simon Hinkler of THE MISSION.
The group decorates their music with rich violins and female vocals, which are already referred to as "ethereal wave" on Wikipedia. Without neglecting their Goth-Rock roots, THE EDEN HOUSE extend their horizon through top musicians from Prog Rock and Trip-Hop, creating a unique symbiotic sound. In 2009, THE EDEN HOUSE already worked with top-class performers, including Julianne Regan, Amandine Ferrari, Evi Vine, Jordan Reyne, Andy Jackson, and Phil Manzanera (Roxy Music). Numerous tours and headliner shows at festivals in Great Britain, Germany, Belgium and Poland underline this success story.
A single as a 7"and digital version of the song 'Verdades' is already out together with a video and presents the forerunners to the album. In addition, live shows are planned in Great Britain and Europe.
Tracklist

01. Verdades
02. One Heart
03. Misery
04. 12th Night
05. The Ghost of You
06. Ours Again
07 It's Just A Death
08. Words and Deeds
09. Let Me In
10. Kiss Kiss Bang Bang
11. Second Skin
12. The Ardent Tide
Album credits: Vocals by Monica Richards, except 3. Louise Crane; 5. Meg Pettitt; 7. Lee Douglas; 10. Kelli Ali; 12 Lousie Crane & Meg Pettitt
Pre-Order the album:
More on THE EDEN HOUSE
here
!
Source: Press Release