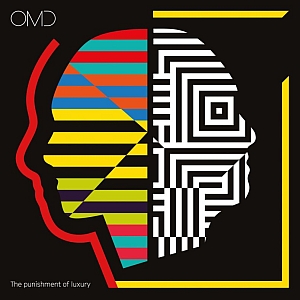 The second single to be taken from OMD's forthcoming album 'The Punishment of Luxury' is the title track. It is out now on all good download and streaming platforms. iTunes – Spotify – Apple Music. Those who pre-order any physical formats of the album from PledgeMusic will receive an instant download of the track as well. Andy McCluskey explains:
"Most people in the Western world are materially better off than their predecessors ever were and yet we are unhappier. Now we have many possessions we don't need because we've been persuaded to buy. This is the punishment of luxury."
Additionally it will be available as an exclusive 12″ vinyl which will be released on 13th October. The 12″ vinyl is limited to 1,000 copies worldwide and includes a 12″ extended mix of the single and an exclusive B-side entitled 'Lampe Licht'. Pre-order from PledgeMusic or Rough Trade.
Watch the video here:
The new and 13th studio album 'The Punishment of Luxury' will be released on 1st September via RCA/ Sony Music. The Long-player is the successor of the critically acclaimed album 'English Electric' from the year 2013 and once again combines outstanding synth-pop with masterful songwriting. The entire album was compiled, recorded, produced and mixed by the two OMD founders McCluskey and Humphreys. With the twelve songs, OMD leave their comfort zone a few times, without sacrificing their artistic integrity.
The album was recorded in the respective studios of the two in Merseyside (Andy) and London (Paul), finally the whole was mixed in Paul's studio. The youthful energy of OMD remains on album number thirteen, even if the naivety and enthusiasm of the past is replaced by a more reflective and cheerful mood.
"On this record, we managed to create beautiful things from noises and repeating sound structures,"
explains McCluskey. The name of the album goes back to a painting by the Italian divisionist Giovanni Segantini from the year 1891, which can be seen in the Walker Art Gallery in Liverpool, where Andy noticed it. The painting techniques of divisionism are very similar to pointillism, and so the Segantini painting "The Punishment of Luxury" features two women who, due to their non-standard attitude, hover up to the purgatory in an alpine landscape. 'The Punishment of Luxury' is the result of the once again found adventuresomeness, the exploratory spirit of those days and will be released as CD, Deluxe Ecolbook Edition, Super Deluxe Book, Vinyl, Download and Stream.
OMD will be heading out on tour in support of the album later in the year. For the European shows, VIP upgrades are available which will include access to sound check, an exclusive T shirt and meet & greet packages. Here are all German dates:
Nov 25 Erfurt, Traum Hits Festival
Nov 26 Hamburg, Große Freiheit
Nov 28 Berlin, Huxleys
Nov 29 Leipzig, Haus Auensee
Nov 30 Munich, Tonhalle
Dec 02 Offenbach, Stadhalle
Dec 03 Düsseldorf, Mitsubishi Electric Halle
Tickets are available via
Eventim
or
Ticketmaster
Pre-Orders:
Source: Press Release