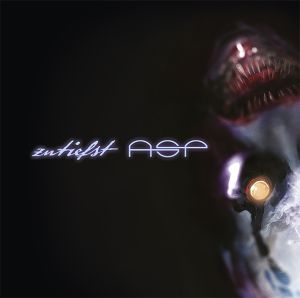 The essence of 'gothic novel rock'; a distillation of ASP's works.
The moment that the fans have longed for: finally, ASP return to the 'Fremder' story cycle, bringing the journey they commenced with the top ten album 'fremd' and developed further on the number 2 album 'MaskenHaft' to a new climax. Or more specifically, they descend into the most unfathomable depths of the human soul.
In contrast to the narrative concept of 'Verfallen', which was highly praised by critics, on ZUTIEFST Alexander 'Asp' Spreng concentrates quite clearly on that which the fans love and which makes this band so special: Ten spooky musical short stories that contain that finely distilled skill, and which constitute what is probably the shortest ever literary work. Each song knows how to captivate with its very own fantastic plot, and as Asp sets to work, he does so full of gusto. Even though, as always, the album has turned out to be lyrically ambitious, offering ASP fans lots of allusions and back references, on ZUTIEFST you notice a lightness that almost seems to be in contradiction to the complexity and profundity of the lyrics. There has not been such a density of hits from the melodically unerring ASP for many years. One gothic novel hit follows the other, and future live evergreens follow hot on the heels of one other.
ASP are an inscrutable phenomenon in the German music scene. For years now, tirelessly and with a burning passion, they have been winning over an ever-greater audience – and across all scene boundaries. As they do so, the musicians and their art always remain authentic. Without even the slightest currying of favour with the mainstream, they regularly achieve high positions in the Media Control Charts, Germany's official music charts. For a long time now, connoisseurs of challenging lyrics and profound rock music have noticed that extremely powerful compositions and soothing melodies are hidden behind the scary mask and often-alarming content.
With ZUTIEFST, you almost have the feeling that you have a sort of 'best of' in front of you. The new ASP album combines the playful beauty of ASP classics such as 'Weltunter' with the earthy power of 'fremd'. You will find hymnal heavy rockers as well as virtually soundtrack-esque, wave-like moments and echoes of epic dark rock operas.
As opposed to the work of many other representatives of the somewhat darker scene, you can always clearly feel the self-mocking lyrical wink in the compositions, which does them a whole lot of good. Of course, ASP remain true to their roots, and the new album features many a spooky story, but to be quite clear: this album offers boundless fun! Once more, they are ASP to the core!
The album will be released in following versions
- Limited Earbook Box Edition
- Book with Double-CD
- 10" Picture Vinyl - limited to 1,999 copies worldwide
- Limited Earbook Edition - limited to 1,999 copies worldwide
- Digibook First Release - limited to 9,999 copies worldwide
- Blue Vinyl - Limited Double-LP - limited to 499 copies worldwide
- Black Vinyl - Limited Double-LP - limited to 499 copies worldwide
ASP - The 20.000 Meilen Tour 2017
special guest: Gothminister
27.10.17 Oberhausen, Turbinenhalle
28.10.17 Leipzig, Haus Auensee
29.10.17 Hamburg, Markthalle
30.10.17 Stuttgart, Im Wizemann
03.11.17 Würzburg, Posthalle
04.11.17 Hannover, Pavillon
05.11.17 Saarbrücken, Garage
08.11.17 München, Backstage Werk
09.11.17 Berlin, Huxleys Neue Welt
10.11.17 Dresden, Alter Schlachthof
11.11.17 Heidelberg, halle02
Tickets:
Eventim
/
Ticketmaster
Source: Press Release