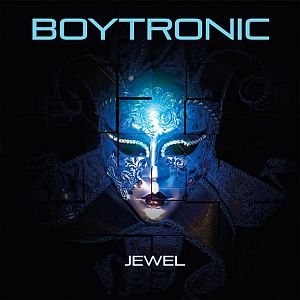 Occasionally it takes only a tiny spark, a brief but highly inspiring moment, to reignite a quietly smouldering fire. Hayo Lewerentz and Ingo Hauss experienced that moment almost two years ago when – without a specific objective in mind, really – they recorded a song with British vocalist James Knights. In the process, the three musicians discovered to their own surprise that the result came surprisingly close to the characteristic sound of their band
BOYTRONIC
.
"We immediately knew that we felt like writing a full BOYTRONIC album again,"
recalls Lewerentz, looking back at the initial inspiration that eventually culminated in the release of their new album, 'Jewel'. When soon afterwards the video to accompany the song in question – entitled 'Time After Midnight' – met with enthusiastic reactions on the internet, fuelling their fans' requests for new BOYTRONIC material, they decided to intensify the band's activities again a good ten years after their previous studio recording Dependence. Lewerentz:
"Strictly speaking we've never been a permanent band in the traditional sense but rather a project consisting of musicians who get together for specific stuff. As our previous singer Holger is not available at the moment and we've found his ideal successor in James we felt we had come up with the perfect constellation for a new project."
Launched in 1983, BOYTRONIC were among the most important and most successful German electronic acts of the 1980s and '90s, scoring several hits recorded by different line-ups and their most popular single release 'You', which stayed in the German and international top 10 for eight weeks. Over the years BOYTRONIC brought out almost a dozen albums and more than twenty singles, many of them supported by video clips. The lead single to be released from their new album 'Jewel' will be called 'Mad Love' and features a magical electronic sound, a pulsating beat and hypnotic vocal lines that could hardly be more typical of BOYTRONIC.
"BOYTRONIC has always been about pop songs, danceable, catchy and always a little mysterious. 'Mad Love' fulfils all those criteria, on top of bringing to mind the sound of our first albums from the early Eighties,"
says Lewerentz, who, along with Ingo Hauss and producer Alex Christensen, was also involved in the successful U96 project ('Das Boot') and for some ten years owned the Major Records label which released recordings by renowned acts from the scene, such as IAMX, LADYTRON and NITZER EBB. He explains:
"As a musician and label manager, I've always been interested in a diverse range of groups, such as CHEMICAL BROTHERS, UNDERWORLD and the house/dubstep duo KNIFE PARTY. Ingo and I have never been pure DEPECHE MODE devotees but had much more diverse musical tastes."

This varied stylistic range manifests itself on Jewel, which features several songs that go beyond the scope of typical electronic pop songs. 'The Universe' for example is very special, much more than a simple pop number but a veritable little opus with highly original arrangements and – as Lewerentz calls it
– "a centre part in Alice in Wonderland mode".
The slow 'Dark Passion' with its enigmatic musical note also stands out, as does 'New Year's Day', a cover version of the renowned U2 hit.
"We came up with the idea spontaneously at the studio,"
says Lewerentz.
"Ingo, James and I were jamming away when suddenly James joined in our chord harmonies with the 'New Year's Day' chorus. We looked at each other in surprise and decided: Might as well have a go at the original."
There can be no doubt: 'Jewel' is a very special album in the history of BOYTRONIC, musically as well as in terms of its lyrics, 'Share' for example being about the inflationary sharing of lyrics and photos on social media. In addition, Lewerentz was inspired by Martin Scorsese's movie 'After Hours' to write 'Time After Midnight'. That lyrics and music are a perfect match is also thanks to British vocalist James Knights. Lewerentz:
"There are definitely advantages in having a native speaker on board who sings without any accent at all. In addition, James is an awesome live performer who totally lives the music and sings to the audience with real abandon. He feels really comfortable on stage."
To cut a long story short: BOYTRONIC are back! Jewel is a new beginning as well as the continuation of the success story so far and could hardly have turned out more multi-coloured and impressive!
Pre-Order:
Source: Press Release