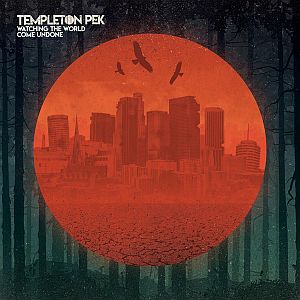 "Watching The World Come Undone" will be released on February 23rd, 2018! This record is a very personal analysis of an increasingly complex and confusing world. The fictitious city on the artwork emphasises the band's fixation with the self-destruction of mankind and is, according to vocalist Neal, part of the total work of art that is "Watching The World Come Undone":
"Like earth itself we start off with abundant green landscapes, like the innocence of our youth. We then gradually go on to obstruct, develop and pollute it beyond recognition, the colours oppose each other and are radically different, the orange cutting crudely and uncomfortably through the calm green."
Musically and lyrically, "Watching The World Come Undone" is the strongest record of the band's career to date and deals, along with the political component, with existential questions.
"It's as close to a concept album as we could get. From day one of writing the album, we had a clear idea of its vibe and general feel."
Tracklist
01. Nowhere To Hide
02. Oblivious
03. The Awakening
04. Axis
05. The Aftermath
06. Sirens
07. Collision Course
08. Black Hearts
09. City Of Fire
10. On Our Own
Preorder here:
http://amzn.to/2BTWTAW
Source: Press Release