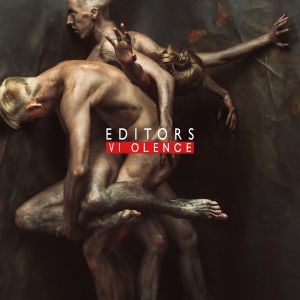 EDITORS today unveil their new single 'Magazine', taken from forthcoming album 'Violence'. A dizzyingly bright, yet barbed opening salvo, 'Magazine' marks an intriguing stylistic shift for EDITORS. The single, the band's first in three years, is an anthemic pop song that savagely attacks the empty gestures and posturing of those in power. Built around a rousing chorus, swelling keys and crunching, industrial chords, 'Magazine' is a muscular, dynamic call-to-arms. Sure to whet the appetite for 'Violence' and strike an emotional chord with their legions of fans, 'Magazine' demonstrates an ambition from EDITORS that their latest work is destined for the biggest stages this summer.
Talking about 'Magazine', EDITORS front man Tom Smith says ''
Magazine is a pointed finger aimed at those in power...some corrupt politician or businessman...a character, and a tongue in cheek poke at the empty posturing and playing to the masses of the power hungry."
'Violence' is the sixth album from EDITORS, and follows 2015's acclaimed top 5 'In Dream'. It is produced by Leo Abrahams (Wild Beasts, Florence & The Machine, Frightened Rabbit) and Editors with additional production from Benjamin John Power (Blanck Mass, Fuck Buttons) and mixed by Cenzo Townshend, except 'Hallelujah (So Low)' mixed by Alan Moulder.
The 'Magazine' video was shot in Amsterdam by renowned photographer, director and long term EDITORS collaborator Rahi Rezvani:
'Violence' will be released on 9th March 2018 as download, stream, CD Jewel Case, LP as well as limited CD Deluxe Box and LP Deluxe including two mode exclusive songs for download and more.
'Violence' Tracklisting

01. Cold
02. Hallelujah (So Low)
03. Violence
04. Darkness At The Door
05. Nothingness
06. Magazine
07. No Sound But the Wind
08. Counting Spooks
09. Belong
EDITORS will play three intimate album launch shows in special venues that they've never played previously, starting in their adopted home city of Birmingham on March 4th, visiting Manchester and ending in London on March 6th. Fans can gain access to an exclusive ticket presale for these shows by pre-ordering the band's new album from www.editorsofficial.com.
Ticket pre sale starts Thursday 18th January at 9am
Tickets go on general sale Friday 19th January at 9am
Sun, 4 UK, Birmingham, Town Hall
Mon, 5 UK, Manchester, Cathedral
Tues, 6 UK, London, The Clapham Grand
Live in Germany
18.03. Wiesbaden - Schlachthof
24.03. Münster - Halle Münsterland
25.03. Köln - Palladium
31.03. Hamburg - Mehr-Theater – AUSVERKAUFT
01.04. Berlin - Tempodrom
02.04. Leipzig - Auensee
18.04. A-Wien - Gasometer
20.04. München - Tonhalle
19.-22.07. Cuxhaven - Deichbrand Festival
27.-28.07. Lörrach - Stimmen-Festival
27.-28.07. Dortmund - Juicy Beats Festival
17.08. Leipzig - Highfield Festival
Source: Press Release