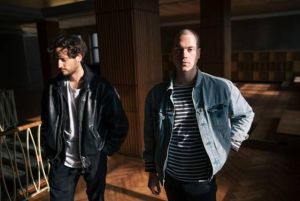 The Berlin-based duo
LEA PORCELAIN
has been building up the suspense for a long time, which they were able to fully redeem in the summer with the release of their debut 'Hymns to the Night'. Internationally there were enthusiastic reviews and the band toured throughout Europe including highlights such as an ALT-J support tour or a release concert at the legendary London Rough Trade Store. But since Markus Nikolaus and Julien Bracht do not want to rest on their laurels, they continued their studio work almost seamlessly between the live shows.
So we and all other fans of the duo can already look forward to brand new material. Just released is the track 'Gotta Run', which is the first of four new songs that will be released in the next few months. The song is an intense-driving, gloomy chunk that blends all the qualities of the band with catchy elements and continues to set the bar very high. Just check it out:
LEA PORCELAIN about the year 2017: "After our debut last year and the great feedback from our fans, press and radio both in Germany and internationally, we wanted to start the year 2018 with new music and release a new song every month until April. We're working on new videos and we have big plans for 2018. So stay with us, have fun with the new songs and we are looking forward to your opinion and support this year. In love, Lea".
More concretely, the big plans mentioned include extensive tours, and preparations are underway for a first US tour since more and more demands are coming in. There are also numerous shows throughout Europe on the plan: further details should be announced shortly.
Source: Press Release