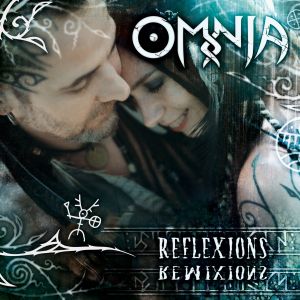 The NEW OMNIA CD REFLEXIONS is a labour of Love... It is the product of a long, intensive cooperation and friendship between 3 successful pagan music producers (who all happen to be gifted musicians and composers as well) and an enormous amount of raw studio tracks taken from 7 different OMNIA studio-albums recorded over a period of 10 years. This is a completely NEW concept in songwriting, studio-mixing and Music Art. A unique project which, up to now, has NEVER been done before!
For more than one and a half years, Christopher Juul (producer of Valravn, Heilung, Euzen) together with Jenny and SteveSic have been involved with re-thinking, re-mixing and reworking parts of different iconic OMNIA songs and even whole albums. Creating completely NEW songs out of the enormous library of collected OMNIA works to build this truly unique album, which is an audible spirit-journey into a Psycho-Shamanic "World of OMNIA" as much as it is a cutting edge studio project.
REFLEXIONS is OMNIA's Shamanic PaganFolk sound of Breath, Bone, Wood, Skin and Stone layered song upon song and album upon album. Reflected through the silicon looking glass ... Prismatically split into rainbows of possibility using the latest Gems of technology... Warped by advanced studio techniques into a Spiritual, Emotional, Musick experience without parallel. A marriage between the past, the present and the future...
OMNIA-REFLEXIONS will be (physically) released as a luxury, full colour, matt-laquered, Silver embossed, 6 page CD digipack, including a 32 page full colour art-booklet. Release date is 30-3-2018.
Source: Press Release