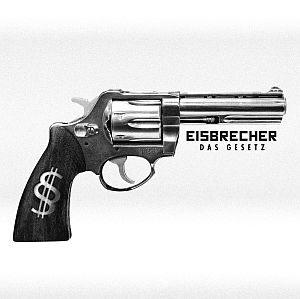 Munich-based successful rockers EISBRECHER are releasing a new single on June 8 entitled 'Das Gesetz' via RCA Deutschland / Sony Music. The single - a release from the current album 'Sturmfahrt' - will be available digital and via streaming and accompanied by a lyric video. A first excerpt from it can already be seen in the form of a trailer: https://www.facebook.com/eisbrecher/videos/10160356766220545/
"Ich bin der vor dem Dich alle warnen- Ich bin das Gesetz" ("I am the one all warn you about - I am the law"). So tells the chorus of the new EISBRECHER single 'Das Gesetz' and you know immediately: here is time tidied up properly. Turbulent times like these call for an orderly hand and the band around Alex Wesselsky and Noel Pix offers at least assistance here. EISBRECHER, whose winking eyes are unjustly overlooked one or the other, come up with a clean and catchy pop chorus that feeds the unequivocal message all the sweeter into the fans' ears. EISBRECHER do not play the world police, but do not want to watch completely without comment, as the manners daily become somewhat independent. 'Das Gesetz' is the new single from the number 1 album 'Sturmfahrt', after gold awards of the previous albums already the next milestone in the band's history.
In summer major mainstream festivals like Deichbrand or Nova Rock will be played as well as genre instances like M'era Luna or Summer Breeze. As a highlight, the band is holding its own "Volle Kraft Voraus" festival in the Neu-Ulm Ratiopharm Arena on 8 September 2018 with top-class guests: EISBRECHER, OOMPH!, DIE KRUPPS, ZEROMANCER, STAHLMANN, SCHÖNGEIST. The currently most successful Bavarian rock band delivers also in 2018 reliably and relentlessly - that's law! Info for the "Volle Kraft Voraus" festival are available via www.vkv-festival.de.
Source: Press Release