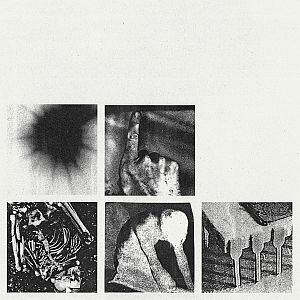 Even today, Trent Reznor remembers how it felt: the seclusion of the space where he lived as a 20-year-old. He remembers how he would pull the cover off from a new record; a record he had queued up all night long to get, along with a whole bunch of other desperate vinyl-obsessed people. He also remembers the sound the phone made when he left it hanging off the hook so nobody would bother him. And he can still hear the cracking of the needle as it tries to find its way when he finally sat himself down in front of his makeshift speaker wall. "You'd just sit there, listening," he says. "Looking at the album as it's played, trying to figure out what it means." He sighs. "It was my favourite thing to do."
It's not necessarily like Reznor misses that time terribly. After all, we're talking about Cleveland, Ohio in the 80s. He thinks back, but what he misses is the intimacy of music consumption back then, which today lacks the reverence with which one bought a record and the mysterious admiration that one had for it. "This is not a judgment that life now sucks or anything", he clarifies and laughs. "I just miss the attention and the role that music played - in my life, too! I mean, when was the last time I sat and listened to an album from start to finish without looking at my phone? I realize culture and life and society have moved on, but if I had infinity records and a skip button, I wouldn't have made it thirty seconds into the first song on a lot of records that changed my life."
Not so long ago Reznor reminisced about this sentimental indulgence, embarrassing at best, at worst a threat to the creative process. "I was never a nostalgia guy," he says, shaking his head. "I was always looking forward." But in the last few years, since the release of 'Not the Actual Events' 2016, 'Add Violence' from 2017 and culminating in the mini-album 'Bad Witch', which was released on June 22 and is the culmination of what Reznor himself calls "a suite", things have changed. The past looks is looking rosy again, not so bright that you want to go back, but bright enough to borrow ideas from it and adapt them for these times. This also works well in practice: For example, all tickets for the NINE INCH NAILS "Cold and Black and Infinite Tour" this autumn are sold at the counters of the halls and venues where the concerts will take place.
Even the music itself seems to want to carry the new source of inspiration. "There's a sense of the self-referential on these albums," Reznor says of the EP trilogy. "And a new kind of aggression." In truth, however, it is an old form of aggression and its well-known counterparts: anger, violence, danger and grief - all viewed through a different filter than before. The result of all this is a collection of mini-albums that are decidedly innovative on the one hand - NINE INCH NAILS experimenting with new sounds and narrating an unprecedented story - and on the other sounds absolutely familiar. 'Bad Witch' wants to hurt us, that's for sure. If Reznor admits that the album is too violent to hear in public, he replies simply: "Mission accomplished."
Trent Reznor and his long-time musical companion Atticus Ross had not made a NINE INCH NAILS record for more than three years when they finally came back together the studio in 2016 and started working on the tracks that would later become 'Not the Actual Events'. It was not long before it became clear that they had once again started the development of an epic work. Only this time it was not a single multi-part saga (as in 'The Downward Spiral'), but each part of the trilogy was planned to be released separately. "It will be more immediate," Reznor recalls. "And the level of adrenaline and momentum might sustain better".
Already the first part struck hard - hasty and angry. Reznor explains his ideological inspiration, and it's needless to say that the sound is one thing above all: intense, and in addition, deliberately self-referential. Reznor thinks back. "I was thinking about those past records, doing things like picking up a guitar, which I told myself I would never again for any reason and finding... fuck! It sounds good!"
On 'Add Violence', the story expanded, then became more complex. "The idea was: maybe the explanation is more global and zoomed out," he explains. "Maybe we're all in a simulated reality. That might introduce the concept of meaninglessness as a way to explain why everything feels off." Reznor and Ross simply doubled the brute noise to wrap this idea into a sonic garment. After realizing that the result could be heard, they decided to play some shows. These ran so well that the creative couple could not help but go back to the studio at the end of last year. "We tried to take the show momentum and come back - okay let's start! Let's not over think it! Let's try some shit!", recounts Reznor and Ross adds "The first two had more of a definite start point in terms of what was meant for, musically."
Originally, the duo actually just put together scraps of sound that had not made it to the album in the past sessions. Songs without lyrics that seemed exciting at first. "They felt familiar," says Reznor, but it quickly turned out that this familiarity was a problem. "Well, it could be good...," he explains the writing process. ""It feels more like a mechanical thing than an experimental thing," says Ross in a nutshell.
What both of them eventually learned from this process is a lesson that Reznor learns, to his own astonishment, over and over: if you feel you know exactly where to go then take a different path. "It's something that I wish I could remind myself more often," he says. "There's a moment of clarity where I say: I've put myself in a box again. Nobody is telling me I have to do it this way! You can do it any way you want. So throw the box out!" In that case, that meant Trent Reznor had to do things that he thought he would never have to do again. Playing the guitar or picking up a saxophone for example. It meant to shake things up with gigantic, fast, sawing beats - all in frustration with his obvious inclination to surround himself with the familiar. He remembers those moments: "This is either really great or really shitty. No one has to know."
That's the way 'Bad Witch' sounds: Six songs, all of which are urgent and disturbed, and yet each one sounds completely original. Each track is a unique potpourri of teeth grinding, hyperactivity, and disharmonic noise - united solely in their shared nihilism: "Obsolete, insignificant, antiquated, irrelevant, celebration of ignorance, why try change when you know you cannot?" roars Reznor on 'Ahead of Ourselves'. The third track of the record, 'Play the Goddamn Part', works completely without lyrics, with only a writhing, throbbing, broken bass line and fearsome strings merging into something that sounds like a whole orchestra playing together - like a gigantic garbage disposal on the Death Star.
Originally Reznor had also planned a slightly different, probably more satisfying finale for his trilogy. One that moves a bit further away from 'Add Violence' and adds another layer to the metaphysical matrix. He wanted to end it as a pleasant, comprehensive, though macabre, image of our common cosmic reality. But his heart just wasn't there. "There had been an earlier idea that would tie things up with a bow that was less exciting, conceptually, to either of us, in the end" Atticus Ross remembers: "But ticking the appropriate box just did not feel like the right thing to do."
The moment Reznor tried to do what he had imagined for so long, it suddenly felt too preformed. Too accurate. Too much like something he had done before. So they chose a different path - the way of "anti-explanation" - there are no answers and nothing in this world means anything. "Now we're saying the illusion was enlightenment. We're not some elevated transcendent beings, we're bacteria in a jar", laughs Reznor.
And yet... the final track on 'Bad Witch', 'Over and Out', albeit as oppressive and humble as the rest of the album, captures exactly this tightrope between idealism and resignation that defines the music of NINE INCH NAILS as when Trent sang for the first time: "I just want something I can never have."
"Time is running out, I do not know what I'm waiting for. I think this keeps happening over and over again. I feel like I've been here before, over and over again," he sings now, and also, "Am I remembering you correctly?" to whom Reznor addresses, he does not betray. But one thing is clear: as meaningless and crude as the world of 'Bad Witch' seems to be, Reznor is at least not alone in it. And we are not either.
Source: Press Release