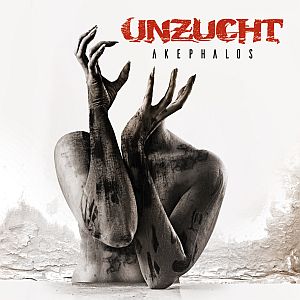 On their new album 'Akephalos', so called after a headless demon from ancient Greek mythology, UNZUCHT have dared to build a successful German-language bridge between Dark Rock, Indie sounds and modern Metal. The album will be available as a limited fan box set and will be released on July 27 via Out Of Line / Rough Trade.
According to legend, an Akephalos is a headless demonic figure that cannot find peace. Fortunately, for UNZUCHT, this does not apply to their new album, as each of the 11 songs succinctly gets to the point. But a certain amount of restlessness is exactly what the songs relate to with their very special energy. More than ever, the boys use a melting pot of different styles to bring their German-language rock anthems to life. From German power and industrial sounds in 'Fleisch und Ruinen', to the melodic Hardcore fundamental in 'Projektil', from the first single 'Nela' that blends modern Metal with Alternative Rock to the Indie-Rock-meets-Synth-Pop-epic 'Der schmale Grat' - again and again UNZUCHT drive joy into these songs with unexpected hooks but still manage to remain faithful to their basic melancholic dark sound.
Sometimes brutal, sometimes unashamedly emotional, UNZUCHT steer their ship exactly where their heart leads. Carried by the usual fiery voice of Der Schulz, the boys do not shy away from genre clichés and stand out from the crowd for exactly that reason. 'Akephalos' also will be released as a limited fan set in a gatefold sleeve, including an exclusive bonus disc with piano versions, as well as a flag, a patch and a signed autograph card as exclusive extras.
Source: Press Release