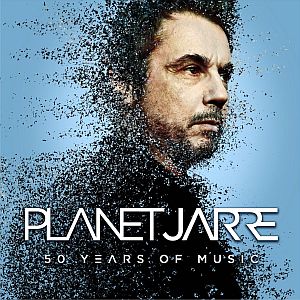 41 tracks, re-mastered, new versions and selected tracks in 5.1 sound including 2 brand new titles 'Coachella Opening' & 'Herbalizer'! With his Best-Of album 'Planet Jarre', one of the most important founders of electronic music, JEAN-MICHEL JARRE (JMJ) celebrates his 50th year of creating music. With this double album, Jarre once again states the place he has taken in popular music. JEAN-MICHEL JARRE personally selected these 41 re-mastered pieces from his immense music back catalogue for 'Planet Jarre', which will be released on September 14, 2018 through Sony Music. Jarre, always setting the benchmark in terms of sound, also offers the opportunity to enjoy a few selected songs in 5.1 sound quality as part of the quadruple vinyl book and the exclusive box set.
As a careful curator of his own work, JEAN-MICHEL JARRE did not just link these musical gems together on 'Planet Jarre' primarily for successfully purposes. As with many of his albums, Jarre proffers a concept this time as well. On 'Planet Jarre', he structures songs in four parts: "When I worked on my songs for 'Planet Jarre', I found that I wrote and composed music in four different styles," Jarre explained about the concept. "Today, there is the notion that people are paying less and less attention to music and constantly jumping between songs, which is not entirely true, because we all spend more and more time listening to playlists wherever we are. However that's why we've decided to divide the compilation into four different parts, like four different continents that make up a planet - my planet. There is a lot to discover, and I hope that the listener enjoys his journey through the 'Planet Jarre'."
Consisting of four different parts - 'Soundscapes', 'Themes', 'Sequences', 'Explorations & Early Works' - 'Planet Jarre' is unmistakable and typically Jarre. The first part, 'Soundscapes', delivers what the title promises. Jarre's genuine sense for sound aesthetics and the dramatic creates soundscapes in the nine pieces that clearly refer to his background in classical music and film music. Relatively long, familiar ambient tracks such as 'Oxygene 1', 'Equinoxe 2' and 'Chronology 1' fit seamlessly into more recent pieces, such as the original version of the title track of Jarre's latest album 'Electronica - The Heart Of Noise'. The second part, 'Themes', consists of timeless and melodic song-like structures like 'Oxygene 2', 'Oxygene 4', 'Zoological-ochealology' and 'Industrial Revolution Part 2' which are sure to be recognised by the listener. The nine pieces on 'Sequences' are all based on repetitive, hypnotic sequences that can only be created with electronic instruments. With 'Arpeggiator' and 'Revolutions' Jarre paved the way early on for Techno and EDM. 'Sequences' feels like the closing of a circle. Among other things, newer pieces such as 'Stardust', are new discoveries on this album, which Jarre composed only a few years ago with the techno and trance producer Armin van Buuren and also two completely new, previously unpublished tracks 'Coachella Opening' and 'Herbalizer'.
Of particular interest in the final part of 'Explorations & Early Works' is the early and unpublished demo recording of the piece 'Music For Supermarkets (Demo Excerpt)', the only remaining testimony of the produced and destroyed album 'Music For Supermarkets'. At that time, Jarre had only one copy and destroyed all the masters after a one-time radio broadcast as a protest against the commercialization of music being produced like "supermarket goods". For a long time, the only LP available of this album was considered to be the world's highest-grossing vinyl. 'Erosmachine', from 1969, goes a long way back to Jarre's very early creative period.
The release of 'Planet Jarre' follows the US section of his ELECTRONICA world tour, which included his critically acclaimed debut performance at the legendary Coachella Festival in California. In 2017, Jarre, who has sold a total of 80 million albums, was nominated for a Grammy. His unique and spectacular live shows around the world not only earned him four Guinness World Records for the world's biggest concerts, but also the honour of becoming a UNESCO Special Envoy. With his seminal events at the world's most notable landmarks, he was also the first artist to perform electronic music as we know it today. 'Planet Jarre' can be pre-ordered from June 22nd. With this pre-order you can now get the long-unavailable title 'Hypnose' as a foretaste of this great electronic musical history.
About Jean-Michel Jarre

Jean-Michel Jarre is a pioneer in his field and has contributed significantly to the fastest growing musical revolution of all time in the last 50 years: electronic music. He became known in the 1970s for his critically acclaimed album 'Oxygene'. With the following albums ('Equinoxe', 'Magnetic Fields', 'Rendez-Vous', 'Chronology' ...) he overcame previously unknown limits in composition and production, paving the way for today's most popular music genre: electronic music. With more than 80 million albums sold so far, he is still often referred to as inspiration by musicians and contemporary DJs, not only in terms of music, but also his unique visions and creations of outdoor concert experiences.
Jarre's legendary concerts have attracted Guinness World Record level audiences around the world. They take place in unusual settings and extraordinary events: Jarre was the first western musician invited to perform in Red China to Mao; he celebrated the millennium on the Egyptian pyramids; gave a concert in Houston City in collaboration with NASA to commemorate the crew of the Challenger; completed an appearance for his Holiness Pope John Paul II; celebrated winning the World Cup at the Eiffel Tower in Paris and in front of a live audience for a record-breaking 3.5 million people in Moscow.
Jean-Michel Jarre is a living legend and opens up new, innovative ways of musical history with each new piece of music and every live performance.
Source: Press Release