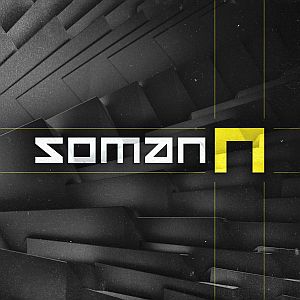 The return of a legend? Absolutely! After what is now eight years since his last release (his last disc 'Noistyle' appeared in 2010), creative mind and soundsmith Kolja Trelle, alias SOMAN, returns with some red hot numbers and a new album. With his innovative mix of sounds spanning Techno, Industrial, EBM and Power Noise, SOMAN remains a progressive pioneer and innovative trailblazer for today's club culture. Unforgettable hit anthems such as 'Divine', 'Pan-Tau', 'Noise Anthem', 'Pusher', 'Traitor', 'Waste', 'Side Chain' and 'Skin Deep' ensured that even all those years ago, SOMAN advanced to the cutting edge of German electronic music. It's an undisputed fact: His discs are legendary and exalted, and his musical legacy is considered sacrosanct, shaping and influencing countless acts. In the meantime, SOMAN returned to basics as a one-man army, with his DJ performances being a guarantee of intensive, unique club nights; indeed, they still are.
'Growler' (release date 31 August) is the first of three planned digital singles to be taken from his latest masterpiece 'NOX', and it really packs a punch. 'Growler' is solid, melodic, technoid and literally cries out for ecstasy and release, when boundaries between genres are torn down and new dimensions of sound are created. This rejuvenation process definitely bears fruit, because this four-minute rollercoaster combines the electro pioneer's unmistakable roots with a contemporary feel, therefore creating a deeply seductive symbiosis that is extremely hard to resist. Three additional remixes ('MT', 'Jeyenne' and 'Van Undercut Tribute') present those smashes from various multifaceted perspectives, revealing his mighty potential. Rounded off by the hard, untameable EBM number 'Stripped'.
Originally starting out as a sound engineer for HOCICO, TERMINAL CHOICE and many others, SOMAN's debut 'Sound Pressure' appeared 15 years ago, followed by 'Mask' (2007), 'Re:Up' (2008) and 'Noistyle' (2010), as well as remixes for VNV NATION, ROTERSAND, TOM WAX and others. And in 2005, with his pulsing club hit 'Unleashed', SOMAN even jumped to the top of the DAC Charts, the German alternative charts. But it's now high time to open a new chapter: 'Growler' is literally a call to fill the clubs with sound and fire up fans old and new in monumental fashion. Mastermind Kolja Trelle puts it in a nutshell: "NOX reflects the joy and pleasure in electronic music, which I've finally found again after a long pause!" In this spirit: Welcome back, SOMAN!
Source: Press Release