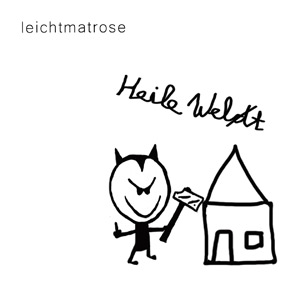 Bittersweet pop hymns to celebrate! What once began as a solo project of the charismatic singer and frontman Andreas Stitz, was completed in early 2018 with the entry of the SCOOTER founder and mastermind Rick J. Jordan as the new producer and live bassist. Thomas Fest, as keyboarder and co-composer on board since 2011, completes the symbiosis of modern Indie Pop production, lyrics with enormous depth and an impressive live performance.
The two albums, 'Gestrandet' (2009) and 'Du, ich und die andern' (2015), have already received many outstanding reviews. So you can - after the auspicious teaser singles 'Wenn es Nacht wird in Paris' (Video: https://www.youtube.com/watch?v=EYisj13O_3I) and 'Jerusalem' (Video: https://www.youtube.com/watch?v=s53bl6yD8cw) - eagerly await the long-player 'Heile Welt' now, which will be released this autumn.
After several celebrated live performances, i.e. several times at the M'era Luna and WGT, and as support of DAF and CLAN OF XYMOX, LEICHTMATROSE accompanied his discoverer and mentor JOACHIM WITT on his "Neumond-Tour" for the first time in 2014, which was continued in 2015 and 2016 due to the great success. LEICHTMATROSE is happy to accompany PETER HEPPNER as support during the upcoming "Confessions Tour 2018".
Source: Press Release