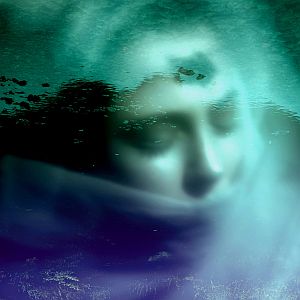 Icelandic post-punk trio KÆLAN MIKLA returns for the group's third album, Nótt eftir nótt. The nine track album will be released on November 9 via Artoffact Records. The band will embark on a European tour with King Dude on September 20, full dates are below. Pre-order the album, and listen to first track Hvernig kemst ég upp? here: https://kaelanmikla.bandcamp.com/album/n-tt-eftir-n-tt
Topping a year that catapulted the band onto stages shared with the likes of The Cure and Placebo, Nótt eftir nótt is KÆLAN MIKLA at their most confident - and their most deadly. It's been five years since Margrét Rósa, Laufey Soffia, and Sólveig Matthildur formed the band in Reykjavík, and after several successful tours and having dominated high-profiles stages, as well as releasing two critically-acclaimed albums, KÆLAN MIKLA has truly brought their A-game.
Starting off quietly with a creepy, gothed-out and ethereal intro, Nótt eftir nótt erupts with post-punk brilliance and synthlines that harken back to the bad old days of the Batcave, big hair, and Egyptian-inspired eye-liner. Tracks like Hvernig kemst ég upp? fuse melody with melancholy, while the band goes for the big goth dance number on Skuggadans, succeeding with glorious ease. Near the end of Nótt eftir nótt, when you've already ingested a healthy dose of Diamanda Galas meets The Birthday Party, the title track, produced by popular Icelandic electronic wizard Bang Gang, is a perfect distillation of KÆLAN MIKLA in 2018.
Although their lyrics are written and performed in their native Icelandic, they add a vivid and clear layer to the message of Nótt eftir nótt. Listeners are beckoned into a world of nightmares crossed with fairy tales, moonlit landscapes, and hypnotic shadows.
Hot on the heels of shows at Roadburn, Robert Smith's Meltdown Festival, and The Cure's 40th Anniversary shows, as well as the upcoming tour supporting King Dude, KÆLAN MIKLA are set to take their place amongst the darkest aural poets on the world stage.
Tracklist
01. Gandreið
02. Nornalagið
03. Hvernig kemst ég upp?
04. Skuggadans
05. Draumadís
06. Næturblóm
07. Andvaka
08. Nótt eftir nótt
09. Dáið er allt án drauma
KÆLAN MIKLA will be performing at the following dates
September 20th, Berlin, DE*
September 21st, Leipzig, DE*
September 22nd, Poznan, PO*
September 23rd, Krakow, PO*
September 24th, Budapest, HU*
September 25th, Vienna, AT*
September 26th, Munich, DE*
September 27th, Martigny, FR*
September 28th, Langres, FR*
September 29th, Nantes, FR*
September 30th, Paris, FR*
October 1st, London, UK*
October 2nd, Sint Niklass, BE*
October 3rd, The Hague, NL*
October 4th, Den Bosch, NL*
October 5th, Oberhausen, DE*
October 6th, Wurzburg, DE*
October 24th, Hvalur Festival, Bratislava, SK
November 8th, Iceland Airwaves, Reykjavik, IS
November 9th, Den Sorte Firkant, Copenhagen, DK
November 10th, Fabrika Fest, Berlin, DE
* With King Dude
Toronto-based Artoffact Records will release Nótt eftir nótt on CD, vinyl, and digital formats this autumn.
Source: Press Release