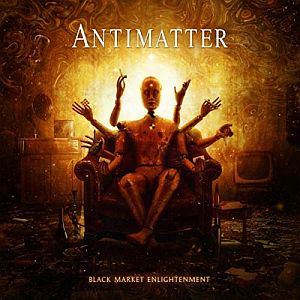 Mick Moss has revealed the artwork to the forthcoming 7th ANTIMATTER album 'Black Market Enlightenment'. The art, by Mario Nevado (Antimatter 'The Judas Table') captures the albums concept, that of entheogenic substance use that quickly spiralling out of control. Lyrically, 'Black Market Enlightenment' explores a very dark period in his life... a period of compulsive, daily substance abuse that began with him making a possibly misguided correlation between certain substances and spirituality, and culminated in Mick doubting that anything was real and being freaked out by his own existence, as he reveals on his Facebook pake. This artwork by Mario Nevado Aégis Illustration perfectly captures not only that lifestyle, but that ironic turn of events.
Tracklisting
01. The Third Arm
02. Sanctification
03. Partners In Crime
04. Liquid Light
05. Wish I Was Here
06. This Is Not Utopia
07. What Do You Want Me To Do?
08. Between The Atoms
09. Existential
The album, released through Music In Stone, arrives on November 9th 2018 along with the 'Black Market Tour'.
Tour Dates
Nov 9 - 'De Boerderij', Zoetermeer, NL
Nov 13 - 'Protokultura', Gdansk, PL
Nov 14 - 'U Bazyla Club', Poznan, PL
Nov 15 - 'Geyserhaus', Leipzig, DE
Nov 16 - 'Liverpool', Wroclaw, PL
Nov 17 - 'Hydrogazadka', Warsaw, PL
Nov 18 - 'Zaścianek', Krakow, PL
Nov 19 - 'Randal Club', Bratislava, SK
Nov 25 - 'The Black Heart', Camden, London, UK
More dates will be announced soon
Source: Press Release