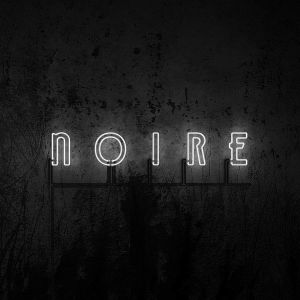 Legendary electronic act VNV NATION has big news for fans - 'Noire', the highly-anticipated 10th studio album, is out via Metropolis Records on October 12th, the day they embark on a world tour, which kicks off in North America on November 16, 2018. VNV's creative-force, Dublin-born Ronan Harris, describes 'Noire' as a
"dark and intense energy that doesn't hold back."
'Noire' is VNV NATION's first studio album in five years. It was produced at Ronan Harris' studio in Hamburg, Germany. The sound and style of the album is far-reaching with dark and ominous moments on tracks like 'A million' to something symphonic like 'All our sins', to more melodic territory like 'When is the future' and 'God of all'. A juxtaposition of classic and new studio technology was used to painstakingly craft 'Noire''s 70+ minutes / 13 songs 'Noire' draws on a wealth of musical influences; from the bleaker, darker side of today's dance music, all the way back to avant-garde composers from the end of the 19th century. Citing inspiration from
"70s electronic rock to dark machine-room beats, post-punk, alternative 80s, blues, electronic-pop, cinematic orchestrations, post-classical, dark-ambient and minimalist music,"
Harris is immensely proud of the coming opus.
VNV NATION is known for unforgettable, energetic and inspiring live performances. The tour/ show promises more to fans than seen before, presenting 'Noire' alongside fan favourites and rarities. Special appearances from Berlin synth pop artist DE/VISION and Cologne's dark, new-wave upstarts, HOLYGRAM.
First Video 'When is the Future?'
"VNV" stands for "Victory Not Vengeance", espousing the artist's core message that,
"One should strive to achieve, not sit in bitter regret."
The sound blends poetic and thought-provoking lyrics and emotive music, ranging from electronic beats, alternative anthems and haunting ballads, to post-classical. Over its career, VNV NATION's success has continued to grow. Its last three albums charted top 10 in Germany, and its last album 'Resonance' achieved top 5 Billboard Chart positions in the US.
EUROPEAN DATES

Fri/Oct-12 - Dresden, Germany / Alter Schlachthof
Sat/Oct-13 - Erfurt, Germany / Stadtgarten
Sun/Oct-14 - Stuttgart, Germany / Im Wizemann
Tue/Oct-16 - Prague, Czech Republic / Futurum Music Bar
Wed/Oct-17 - Warsaw, Poland / Progresja Music Zone
Fri/Oct-19 - Eindhoven, Netherlands / Effenaar
Sat/Oct-20 - Cologne, Germany / E-Werk Köln
Sun/Oct-21 - Sint-niklaas, Belgium / De Casino
Tue/Oct-23 - Amsterdam, Netherlands / Melkweg
Wed/Oct-24 - Bielefeld, Germany / Ringlokschuppen
Fri/Oct-26 - Berlin, Germany / Columbiahalle
Sat/Oct-27 - Magdeburg, Germany / Altes Theater Magdeburg
Sun/Oct-28 - Munich, Germany / Café Muffathalle
Tue/Oct-30 - Frankfurt, Germany / Batschkapp
Wed/Oct-31 - Leipzig, Germany / Haus Leipzig
Thu/Nov-1 - Rostock, Germany / M.A.U. Club
Fri/Nov-2 - Hamburg, Germany / Mehr! Theater
US DATES

Fri/Nov-16 - Austin, TX / Barracuda
Sat/Nov-17 - Houston, TX / White Oak Music Hall
Mon/Nov-19 - Atlanta, GA / Masquerade
Tue/Nov-20 - Ft. Lauderdale, FL / Culture Room
Wed/Nov-21 - St.Petersburg, FL / Jannus Live
Fri/Nov-23 - Philadelphia, PA / Union Transfer
Sat/Nov-24 - New York, NY / Irving Plaza
Sun/Nov-25 - Boston, MA / Royale
Tue/Nov-27 - Montreal, QC / Corona Theater
Wed/Nov-28 - Toronto, ON / Danforth Music Hall
Fri/Nov-30 - Detroit, MI / St. Andrews
Sat/Dec-01 - Chicago, IL / The Metro
Sun/Dec-02 - Minneapolis, MN / Skyway Theater
Tue/Dec-04 - Denver, CO / The Oriental Theater
Wed/Dec-05 - Salt Lake City, UT / The Metro
Fri/Dec-07 - Seattle, WA / Neptune
Sat/Dec-08 - Portland, OR / Roseland Theater
Sun/Dec-09 - Vancouver, BC / Imperial Theatre
Wed/Dec-12 - San Francisco, CA / The Regency Ballroom
Thu/Dec-13 - Los Angeles, CA / The Wiltern
Fri/Dec-14 - Phoenix, AZ / Marquee
Sat/Dec-15 - Las Vegas, NV / Backstage
Source: Press Release
http://www.anachronsounds.de / https://www.metropolis-records.com