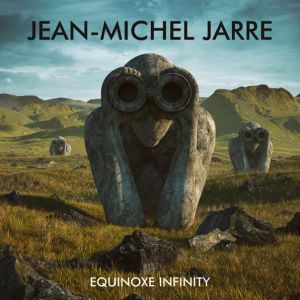 Surprising announcement at the premiere of the 'Planet JARRE 360 Degree Experience' at the Planetarium Hamburg! 50 years of electronic music history, innovation and records: that's JEAN-MICHEL JARRE. Pioneer and co-founder of today's most successful genre: Electronic Music. Just now, he released his 41-track Best Of 'Planet JARRE - 50 Years Of Music' album, including the new titles 'Herbalizer' and 'Coachella Opening' on Sony Music, but not only that, JEAN-MICHEL JARRE surprises with a new album announcement. On 16 November 1978, 'Equinoxe' was released, to the day exactly forty years later his successor 'Equinoxe Infinity' will be released on 16 November 2018 as CD, LP, Box Set and digital: https://lnk.to/JMJ-PlanetJarre.
JEAN-MICHEL JARRE - 'Equinoxe Infinity'

Release: 16 November 2018
Label: Sony Music
Configurations: CD Digipack (two cover versions), LP (two cover versions), Box set 'Equinoxe Project' ('Equinoxe Infinity' + 'Equinoxe Original' Vinyl Replica CDs + download cart + poster of the cover), digital configurations
On the Best Of, which is curated by JARRE himself, he gives a play-listed overview of his career, instead of simply putting his numerous hits together. Consciously divided into the four territories of the 'Planet JARRE', the 41 tracks are divided into the sound worlds 'Soundscapes', 'Themes', 'Sequences' and 'Explorations & Early Works'. Including numerous rarities such as 'Music for Supermarkets', of which there is only the demo version, since the original was destroyed after the sale of a single copy in the 80s as a protest against the constant commercialization of music. Another highlight are the two new titles 'Herbalizer' and 'Coachella Opening'. 'Planet JARRE' will be released as digipack CD, 4 vinyl book and box set including the album as digipack, 2 cassettes and a download card with some songs in 5.1 sound.
As a special highlight for Germany, there was a one-hour presentation of the specially created 'Planet JARRE 360 Degree Experience' in the Hamburg Planetarium on Wednesday, 12 September 2018. The show can be seen in the current program for all interested parties in the Planetarium Hamburg. At the exclusive event, in front of invited partners and some lucky winners from all over the world, JARRE not only talked about his Best Of 'Planet JARRE', but also announced a brand new album: 'Equinoxe Infinity'. This shows once again that a JEAN-MICHEL JARRE does not rest on his career, but driven by creativity and innovative thinking does not see his Best Of as the conclusion of a career, but rather as a milestone.
Fans will be especially pleased with the release of 'Equinoxe Infinity' as it is the most requested work by JARREs for 'Oxygene' for a sequel.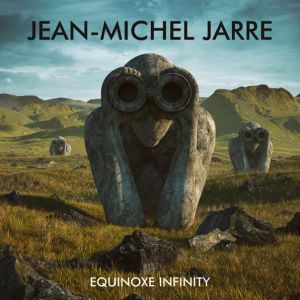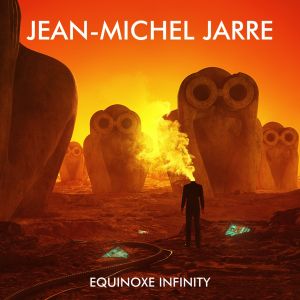 On 16 November 1978 appeared 'Equinoxe'. Forty years later, his successor appears for the day. In 1978, JEAN-MICHEL JARRE composed and produced an album that would reflect the music of our future, revolutionizing electronic music history. As a supporting element, it was 'Equinoxe' to the 'Watchers' (the observers), which were seen on the original album cover in infinite numbers. These Watchers were in 1987, in an emerging era of technology and innovation, a symbol of machines watching us. An early vision of what the future would bring us.
On 'Equinoxe Infinity', JEAN-MICHEL JARRE continues this idea. The new work will be released with two covers by artist Filip Hodas. The one version embodies a future in which man lives in harmony with nature. The other version shows the destruction that machines and humans could bring across the planet. For the well-known as innovator and pioneer JARRE, the topic of Artificial Intelligence and Man vs Machine is the most important and explosive topic for the future of humanity. For his thoughts JARRE was honoured in 2017 with the Stephen Hawkings Medal for Science. 'Equinoxe Infinity' is the soundtrack for this two-sided vision of the future. 'Equinoxe Infinity' includes 10 brand new tracks. With 'The Watchers (Movement 1)' the first title is released just now.
JEAN-MICHEL JARRE - 'The Watchers (Movement 1)'
'Equinoxe Infinity' will be released as a digipack and vinyl in two album cover versions, as well as a box set including 'Equinoxe Infinity' and 'Equinoxe Original' as a vinyl replica CD, vinyl, as well as the album cover downloads and posters. The album cover of the CD & Vinyl cannot be selected when ordering in online shops. The selection is made at the request of the artist randomly.
The new Equinoxe Infinity album can be pre-ordered here: https://JEAN-MICHEL-JARRE.lnk.to/Equinoxe_all
About JEAN-MICHEL JARRE: JEAN-MICHEL JARRE is a pioneer in his field who has contributed significantly to the fastest growing musical revolution of all time in the last 50 years: electronic music. He became known in the 1970s for his critically acclaimed album 'Oxygene'. With the following albums ('Equinoxe', 'Magnetic Fields', 'Rendez-Vous', 'Chronology') he overcame previously unknown boundaries in composition and production, paving the way for today's most popular genre of music: electronic music. With more than 80 million albums sold so far, it is still often referred to as inspiration and inspiration by musicians and contemporary DJs, not only in terms of music, but also its unique visions and creations of outdoor concert experiences. JARRE's legendary concerts have reached Guinness book-noted audiences around the world. They take place in unusual settings and point to extraordinary constellations: JARRE was the first Western musician invited to perform in Red China to Mao; he celebrated the millennium on the Egyptian pyramids; gave a concert in Houston City in collaboration with NASA to commemorate the crew of the Challenger; completed an appearance for his Holiness Pope John Paul II .; celebrated winning the World Cup at the Eiffel Tower in Paris and played in front of an absolute live record audience of 3.5 million people in Moscow. JEAN-MICHEL JARRE is a living legend and opens up new, innovative ways of music history with each new piece of music and every live performance.
Source: Press Release