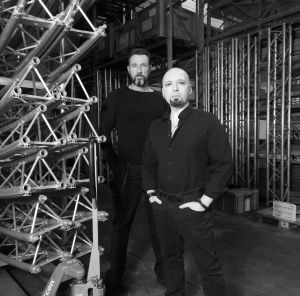 One year after releasing their debut album 'Radius', the German Electro Pop band SCHWARZSCHILD is delivering yet again: On 19 January 2019, the six track EP 'Pulsar' will see the light of day. The Electro Pop duo remains true to their concept of using mostly German lyrics - on this release with one exception named 'Seven'. But why did the band choose the name of a neutron star for their EP? "The title-giving first track, 'Pulsar', can be seen as an introduction to the whole creation and connects the astrophysical definition of the word Pulsar with the connotation of a beacon that guides the way and can give hope to people", explains singer Dino Serci.
Already in 2016 Dino Serci and Peter Daams teamed up to work on their first demo tracks. Quickly after the recordings the video for the song 'Zu viel Leben' was released. The first album was released and numerous concerts with KIRLIAN CAMERA, CHROM and RROYCE happened just one year later. In 2018 sound magician Peter Daams and front man Dino Serci teamed up again to write songs for 'Pulsar'. Lydon Bronx, known from bands such as PZYCHOBITCH, NULLVEKTOR and OUR BANSHEE, was hired for the production. You can even find guest vocals on the upcoming EP: Manja Kaletka (X-O-PLANET) showed off her singing talent on the song, 'Unsterblich'.
In their lyrics, SCHWARZSCHILD tell stories about personal experiences and sound social-critical. If you think that this release is going to be more sad than danceable, you are plainly wrong. 'Pulsar' compiles a mix of fast, danceable tracks, thoughtful mid-tempo songs and melancholic ballads - all in an elaborated electronic sound.
Tracklist

01. Pulsar
02. Schlaflos
03. Im Spiegel
04. Seelenleid
05. Seven
06. Unsterblich (feat. Manja Kaletka (X-O-Planet))
Source: Press Release