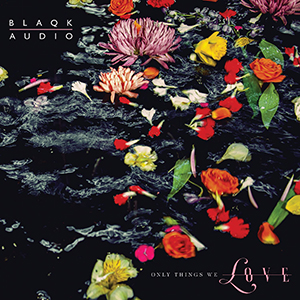 DAVEY HAVOK and JADE PUGET have announced a March 15th release for 'Only Things We Love', the new album from the duo's electronic alter ego, BLAQK AUDIO. They're giving fans a first taste of the record with release of lead track, 'The Viles'. Produced and recorded by Puget, 'Only Things We Love'is BLAQK AUDIO's 4th release following 2007's 'Cexcell's, 2012's 'Bright Black Heaven' and 2016's 'Material'. Each has hit No. 1 on Billboard's Dance / Electronic Albums chart.
Check out the new single:
Asked how 'Only Things We Love' compares to its 'Material predecessor', Havok says "it feels starkly different. Because we were so happy with the many songs we wrote, the track listing continued to change up until a few weeks before it went to press. In the end, the future pop elements of BLAQK AUDIO have a greater representation on this album than they did on the last. Synth pop and electro pop still make up most of the record, yet these tracks have a uniquely modern feel. While even dancier than 'Material', 'Only The Things We Love' offers a dreamy quality less present on any previous release."
Havok says that Puget suggested the album title during the early part of the writing process and that he immediately fell in love with it. "As a phrase, it begs qualification," says the vocalist. "What question does it answer? Some will certainly find joyous meaning in the title. To me, as I feel it will be for many, the evocative phrase is quite confrontational, if not unequivocally bleak." BLAQK AUDIO's upcoming tour, which kicks off March 14th in San Diego, CA, will feature an exciting blend of new tracks and career-spanning favorites.
Though best known for their work with multi-platinum rock band AFI, Havok and Puget's shared love of electronic music runs deep. Havok, who counts DEVO's 'Freedom of Choice' and DURAN DURAN's self-titled debut among the first albums he owned, saw his tastes evolve over the years from the synth pop of ERASURE and PET SHOP BOYS to DEPECHE MODE and ultimately to the heavier, darker SKINNY PUPPY, MINISTRY, FRONT 242 and LORDS OF ACID. Later, Havok immersed himself in the "future pop" genre, which combined dark dance-y electronica with melodic vocals.
Jade Puget comments: "I've always loved that great 80s industrial sound - NITZER EBB, FRONT 242, BABYLAND, etc., so I began this song with that era in mind. I even did something which we never do, which is to put "guitars" on a BLAQK AUDIO SONG, although they're heavily tweaked and sampled." Puget shared his bandmate's long-standing love of electronic music, beginning with a passion FOR DAFT PUNK, DEPECHE MODE, MINISTRY and SQUAREPUSHER, spending a great deal of time programming electronic music, which in turn led to a plan to start an entirely electronic side project: no organic instruments, just synths, keyboards, drum machines, and software.
"We don't really think about consciously evolving our sound," says Puget. "It sort of evolves on its own. We started BLAQK AUDIO almost 18 years ago, so there have been lots of waves and trends in electronic music in those two decades. We just try to do our own thing existing in our own little lane on the side and simply do what appeals to us." When asked if there's something about the making of this album that he'll remember a decade from now, Puget says, "By then we'll all be wearing silver space suits and driving flying cars, but I'll never forget that Davey and I were already doing that in 2019."
Davey Havok adds according the lyrics: "directly by the escapist culture of dark art, the nightlife that surrounds it, and the feelings of alienation that draw a certain kind to meet on the fringe to enjoy extreme behavior in contrarious attempt to both momentarily disappear and find connection."
Source: Press Release