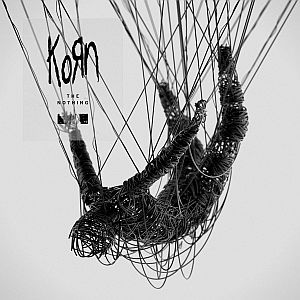 KORN published details about their new album, 'The Nothing', which will be released on September 13 at Roadrunner Records / Elektra. The first single, 'You'll Never Find Me' is available now as stream or download and accompanied by a visualizer, that can be seen at KORN's YouTube channel and pre-ordered at http://wmg.click/Korn_TheNothingCR
KORN singer Jonathan Davis says about the upcoming album: "Deep inside our earth lives an enormous power. Exceedingly few know about the dimensions and meaning of this place, where good/ evil, happiness/ torture, loss/ win and hope/ despair exist as one unit and tweak us in every second of our lives. It isn't something we can choose or control, it's more an awareness of this "presence", that surrounds us with every breath we take, as if we are observed permanently. It is the place, where black and white energies enclose our souls, our emotions, decisions, and perspectives and finally forms our existence. Miraculously, there is a small area in this vortex - and it is the only place with a balance between those dynamic and polarizing forces - where a soul finds it refuge. Welcome to… THE NOTHING."
'The Nothing'of KORN can be pre-ordered now, and via www.kornofficial.com, exclusive bundles are available. Produced by Grammy winner Nick Raskulinecz, 'The Nothing' follows the 2016 released and by critics highly praised album, 'The Serenity Of Suffering', which achieved position 3 of the German charts and contains the Grammy nominated single 'Rotting vain'.
With the publishing of the self-titled debut album in 1994, KORN ploughed up the world of music sustainably. This album created a completely new genre, and because of its sustainable success of the band, it set off a cultural movement. The FADER comments: "There was an unexpected gap opened up in the pop music landscape, and KORN found words for the cross-generational "coming-of-angst" of a claustrophobic, self-observing consciousness. KORN as a growling, threshing, and by the system imprisoned freak show became the soundtrack of a completely new generation."
Since their foundation, KORN sold 40 million albums worldwide, won two Grammys, toured around the world several times, and set diverse records along their path, that are suspected to never be broken again. Again and again, singer Jonathan Davis, guitarists James "Munky" Shaffer and Brian "Head" Welch, bassist Reginald "Fieldy" Arvizu and drummer Ray Luzier burst the musical boundaries of Rock, Alternative and Metal and are a constant source of inspiration for legions of fans all around the world. The dimensions of their influence go far beyond their multiple platinum awards. They are a "truthful movement in a way, like other bands hardly can't it be today", says The Ringer. They represent a new arch type and a radical innovation, their ability to conquer genres let borders remain unimportant.
This summer, KORN go on co-headliner tour through North America together with ALICE IN CHAINS. UNDEROATH joins as special guests during all concerts, and HO99O9 and FEVER 333 on selected dates.
Tracklist 'The Nothing'

01. The End Begins
02. Cold
03. You'll Never Find Me
04. The Darkness is Revealing
05. Idiosyncrasy
06. The Seduction Of Indulgence
07. Finally Free
08. Can You Hear Me
09. The Ringmaster
10. Gravity Of Discomfort
11. H@rd3r
12. This Loss
13. Surrender To Failure
Pre-order: wmg.click/Korn_TheNothingCR
Source: Press Release