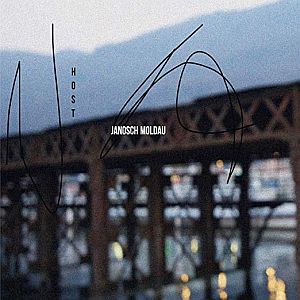 Despite much celebrated live shows in Russia and Italy, things have been quiet around the German Synth-Pop musician JANOSCH MOLDAU over the last two years. The artist who likes to stage himself as "one lost in reverie" is famous for being one of the most tenacious and wilful fighters on the electronic dance floors. Throughout the years, JANOSCH MOLDAU has quietly attracted an idolatrously loyal fan base, celebrating and fawning over the musician and his distinctively melancholic voice wherever he may appear.
And while the musician and his manager succeeded production times of less than one year for each of the last two albums, everything seems to be taking a bit longer this time. This probably also has to do with the change in label and distribution partner. The two previous albums - 'Lovestar' and 'Minor' - and their music clips premiered on MTV/ VIVA in collaboration with the very well-known German label Motor Music (distributed by Rough Trade/ Edel AG). The new album follows an exclusive distribution change to our American colleagues at The Orchard/ Sony Music. Consequently, JANOSCH MOLDAU will be playing live in the United States for the first time as early as November. After two long years of production, the eagerly expected fifth long-player is being released under the ambiguous and mysterious name 'Host'.
The title of the album is turning out to be a tailor-made mediator by JANOSCH MOLDAU between technological, human and religious planes. JANOSCH MOLDAU has backpedalled - in the most positive sense. Many of the new songs sound shy and fragile. Mercilessly booming undertones groan without remorse, somewhat reminiscent of the album 'Motel Songs' from an earlier period. The ten new songs all follow their familiar lonely and deeply convoluted path in the direction of pop. And their melodies have struck right where we have fixed JANOSCH MOLDAU's position for a long time - right in the heart.
'Host' seduces with an infamous beauty, shyness and a solid dose of weirdo pop appeal. All JANOSCH MOLDAU has to say about that: "I was scared of this album..." But we don't really believe him. After all, there are simply too many bands secretly desperate for such sounds in their unheated rehearsal rooms...
Janosch Moldau - Host [Janosch Moldau Records/ Labels / The Orchard/ Sony Music]
Album release date [CD/Download/Streaming]: 22nd November 2019
Available formats: CD (Digisleeve Special Edition incl. booklet) / Stream / Download
The album as well as the advance single 'Broken Shoulder' are now also available as download and stream in all stores. The Special Edition CD contains also the previously unreleased track 'Abel'. Thanks to entirely produced in-house, the entire album oozes true retro charm, something fans of earlier albums have gotten used to. In the music clip for the current single 'Broken Shoulder', JANOSCH MOLDAU and his manager almost take a dive again… check it out here:
https://youtu.be/MbmLOAGSrZk
Source: Press Release