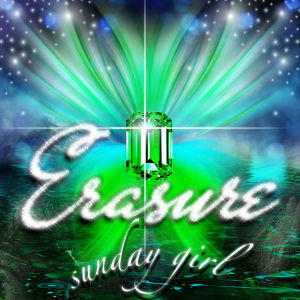 Erasure's brand new single, Sunday Girl is released on June 11th and you can buy all 3 formats from Mute Bank for only £6.99. We also have some album posters to give away which are signed by Vince & Andy.
The album Light At The End Of The World hits the streets this Monday and is available as a 10 track regular CD plus a 12 track limited edition CD which comes in deluxe packaging and includes 2 bonus tracks.
If you place an order for the limited edition format before Monday you will be entered into a FREE PRIZE DRAW to win 1 of 2 goody bags packed full of rare and exciting Erasure merchandise.
Erasure - Sunday Girl
The second single from the album Light at The End of The World, Sunday Girl will be available on two CDs, limited edition 7" picture disc and download.
Vince: This one flowed out very naturally in that hotel room in Maine. We would only write in the afternoon because I've got a new baby [Oscar] and so had to get back home each night. The chord changes and melody seemed to work really well.
Andy: It's a Bacharach-type song with a big chorus. It's quite old-fashioned, like Neil Sedaka's Calendar Girl.
Buy both CD's and limited edition picture disc 7" for only £6.99
If you pre-order all 3 formats you could also receive a Signed Album Poster. We have at least 20 to give away and they will be added to orders randomly.
CDMUTE376
1. Sunday Girl - Radio Mix
2. Take Me On A Highway
LCDMUTE376
1. Sunday Girl - Extended 12 Inch Mix
2. Sunday Girl - Riff & Rays Club Edit
3. Sunday Girl - Riff & Rays Dub Edit
MUTE376
1. Sunday Girl - Radio Mix
2. Take Me On A Highway
Check it out
here >>>
Erasure - Light At The End Of The World
CDSTUMM285 £10.99 - 10 Track Regular Edition
LCDSTUMM285 £12.99 - 12 Track Limited Edition in Delxue Packaging (Includes 2 Bonus Tracks)
Erasure's new album Light At The End Of The World is released on Monday. The album was written and recorded at a private home in Maine, USA. Vince Clarke and Andy Bell alongside producer Gareth Jones converted the house into a recording studio for a month, where they cut ten new electronic songs in the classic Erasure style.
Tracklist:
Sunday Girl
I Could Fall In Love With You
Sucker For Love
Storm In A Teacup
Fly Away
Golden Heart
How My Eyes Adore You
Darlene
When A Lover Leaves You
Glass Angel
Be My Baby - Bonus Track
I Don't Know You - Bonus Track
Please Note: We do not currently operate part shipping - Orders are dispatched when all items are available so to avoid your album delivery being delayed until the release of the single place separate orders.
Check it out
here >>>
Source: Newsletter mute.com