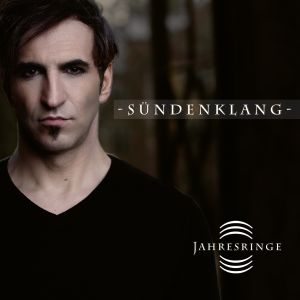 SÜNDENKLANG has long been the scene epitome for deep excursions into the dark spheres of the soul. With their new album 'Jahresringe', which will be released on April 17 via Drakkar Entertainment, SÜNDENKLANG present themselves as uncensored and unadorned as never before. STAHLMANN lead singer Mart Soer used the almost four-year creative break to bundle all those creative emotions that can only find an adequate canvas with SÜNDENKLANG. "'Jahresringe' is my most personal album so far", the musician and producer says. The songs, which, like the annual rings of a tree, testify to experiences, injuries, difficult and easy years, are about processing life events. "The songs are about love, grief, settlement, death, and self-doubt", Mart says. "And finally, it's about the recognition, which in the end is connected with everything."
Relentlessly honest and unvarnished, Mart leads the listeners into the depths of a human soul and takes them on an autobiographical journey of experiencing, reflecting and processing. Musically, all of this was packed in the usual melancholy-rousing Dark Pop sound with Electronic elements, which, in line with the textual opening, was also expanded by a few style elements. For example, there are dubstep sounds to be found on 'Jahresringe'. Mart once again worked with his musical companion Patrick Nevian for the programming. Benni Cellini from the band LETZTE INSTANZ can be heard on the album as a guest musician on the cello, and Leandra Ophelia Dax (formerly APOPTYGMA BERZERK, SANTIANO, LEANDRA) is also a duet partner for the song 'Du bist mein Licht'.
Shortly after the album's release, SÜNDENKLANG will also perform live on stage with a more than high-caliber cast: Chris Fox (L'ÂME IMMORTELLE), Ablaz (NACHTBLUT), Patrick Nevian (BLUE MAY ROSE), Mart (STAHLMANN).
Tour Dates

April 17, 2020 - DE - Göttingen
April 18, 2020 - DE - Bochum
April 24, 2020 - DE - Berlin
May 1, 2020 - DE - Munich
May 2, 2020 - CH – Zofingen
May 15, 2020 - DE – Leipzig
May 16, 2020 - DE - Frankfurt
Band: https://www.facebook.com/Sündenklang-144525665735233
Source: Press Release