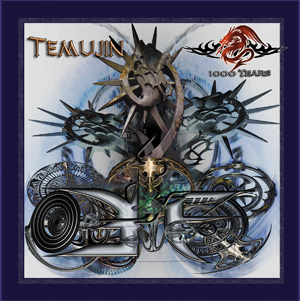 Temujin, one of the leading bands of the new generation of Australian Goth/Metal bands are proud to announce the release of their debut CD, "1000 Tears".


Featuring 13 tracks, 1000 Tears is the culmination of 2 years of writing and recording. The CD is an independent release by the band, who are currently unsigned. "1000 Tears" is the recording debut for lead singer Kelly, who's soulful vocals contrast perfectly with the powerful guitars. Her lyrics draw an emotional response from the listener, touching on the issues so many people experience in their own lives. Rich and textured, the musical backdrop throughout 1000 Tears provides a perfect setting in which the highlight the vocal stylings. Warmth and power, light and shade ... this is Temujin.


With the release of "1000 Tears", Australian metal continues to grow and develop ... Temujin is your chance to experience this for yourself.
Temujin are :
Kelly : Vocals, keyboards.
Karl Lean : Guitars, bass, drums.
Guest lead : Buddy Snape, Sham Hughes.


Band Bio :
Karl Lean was a founding member and bass player for Australian cult metal band Nothing Sacred. Sacred carved a path of sonic assault across Australia for 10 years, recorded an EP ("Deathwish") and two albums ("Let Us Prey" and the unreleased "Nemesis"), and gigged continuously throughout the Eastern states of Australia. After the demise of NS, Karl did session work and guest gigs with a number of other Australian Metal bands including Angel of Death, Ion Drive, Spawn, and Antarctica.

In 2004 Karl began solo writing of new material. With several arrangements underway, the next step was finding a vocalist with the sound and style to complement the music. A single session with Kelly was all it took to confirm that something rare was taking shape. The arrival of Kelly instantly transformed the songs under development. Drawing from her experiences in the live music scene, she brought a freshness and soulful quality to the music. Her lyrical creativity, keyboard arrangements and haunting vocal melodies provide a perfect counterpoint to the crunching guitar tracks.

contact :
This email address is being protected from spambots. You need JavaScript enabled to view it.