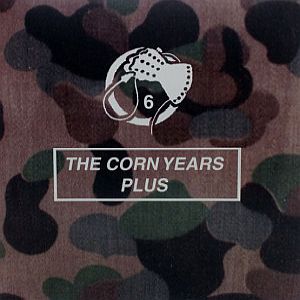 Prior to the 40th anniversary of the cult Neo-Folk project DEATH IN JUNE, French label Steelwork Maschine has already presented the next release of the series of DEATH IN JUNE's reissues. The iconic compilation album 'The Corn Years' gathers songs from the classics 'Brown Book' and 'The World That Summer' as well as exclusive remixes and re-recordings presented by Douglas P, for the reissue.
Back in 1989, 'The Corn Years' had become the very first release on CD format by DEATH IN JUNE and has since only been re-released in a classy, now sold out, double LP on Pylon Records for its 25th anniversary. In 1981, Douglas P founded the cult Neo-Folk label New European Recordings, releasing the critically acclaimed first DEATH IN JUNE 12" single 'Heaven Street'. By 1989, New European Recordings was an already well-established Indie label releasing recordings by DEATH IN JUNE, THE LEGENDARY PINK DOTS, IN THE NURSERY, JOY OF LIFE, CURRENT 93, IRON IN FLESH among others.
In the recent interview for Russian Distortion Magazine, commenting on 'The Corn Years', Douglas notices: "For me 'The Corn Years' represents 2 milestones in the canon of DEATH IN JUNE: first of all, it was the first DIJ release on CD. In 1988, only a very few years after their initial availability, it was being rumoured within some record / distribution companies that CDs would collapse, their sales weren't so good and that vinyl would continue to dominate, or equally, that CDs would soon become MASSIVE! So, with that schizophrenic advice I wanted to get DEATH IN JUNE onto this format before either the CD market collapsed - or exploded! It was a "risk" that I'm really pleased I took and came to fruition in early 1989."
'The Corn Years' represents the first summarization of DEATH IN JUNE being led by only one man - Douglas P. And following the words of Pitchfork's Ned Raggett: "New listeners might be rather surprised by the results; though Pearce is clearly one for extreme artistic impulses, his songs are in many ways quite catchy and attractively dramatic." Definitely, for DEATH IN JUNE, 'The Corn Years' is much more than just compilation. But the document of a certain stage of their creativity.
"Like some DEATH IN JUNE releases before and after this period, such as 'The Guilty Have No Pride' and 'Burial' or 'But, What Ends When The Symbols Shatter?' and 'Rose Clouds Of Holocaust', I saw 'The World That Summer' and 'Brown Book' as "brother" albums. 2 sides of the same coin, so to speak. Releasing 'The Corn Years' as a CD, with its extended playing time, gave me the perfect opportunity to express their "kinship"." Among various releases of the band, 'The Corn Years' occupies a special place. And summing up previously said, Douglas notices: "For many years it was seen as the perfect introduction to the work of DEATH IN JUNE."
The reissue of 'The Corn Years' came out on 6th of June. Housed in a 7" gatefold cover, this includes the original CD Plus a 7" with 3 extra songs. And for your pleasure, it comes in 3 colours:
-Black Heavy 7" - 194 copies
-Swamp Green Colour 7" - 525 copies
-White/Brown/Swamp Green Splatter 7" - 314 copies
DEATH IN JUNE was originally formed in 1981 by the members Trotskyist group Crisis. As its stated by Quietus writer, Pavel Godfrey: "Doug Pearce and Tony Wakeford forsook their fervent anti-fascism to explore the forbidden zone between far Right and far Left, exchanging realist imagery for mythical narratives and esoteric symbols." Since the late 80s the band lead by mysterious Douglas P, has released more than 20 albums. Alongside with numerous compilations and collaborations with such artists as David Tibet, Boyd Rice, Tony Wakeford, John Murphy, John Balance, Psychic TV etc. Exploring abstract sound venues accompanied by acoustic instruments and full-of-symbolism-poetry of Douglas P, DEATH IN JUNE created incredible combination that later called Neo-Folk.
According to THE WIRE's David Keenan, alongside with COIL, NURSE WITH WOUND and CURRENT 93, DEATH IN JUNE became one of the most important musical acts in the British music up to these days.
Source: Press Release