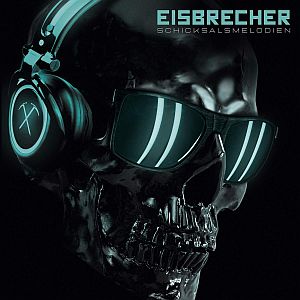 It is one of the undisputed supreme disciplines among musicians to create new, original versions of hits from bygone days. With their new album 'Schicksalsmelodien', the German Gothic / Industrial / Rock / Metal formation has perfected the balancing act between historical templates and its own trademarks, and at the same time bridges the time until the next regular studio album, which is announced for spring 2021. "The starting signal for 'Schicksalsmelodien' was POWERWOLF's request to reissue the song 'Stossgebet'," explains guitarist, keyboarder / programmer Noel Pix. "We had a cover song every now and then on our previous albums, so this art form is not strange to us."
Singer Alex Wesselsky adds: "Then we just kept going because we found it exciting and challenging to translate songs that came from other minds and souls into the icebreaker sound. And suddenly we were working on two releases in parallel, on fate melodies and on studio album number eight. Luckily we're crazy!" The band's large fan base can look forward to a double blow that begins on October 23, 2020 with 'Schicksalsmelodien'. The presale already started: https://eisbrecher.lnk.to/Schicksalsmelodien. The new single 'Skandal im Sperrgebiet' is now available as stream / download at: https://eisbrecher.lnk.to/Skandal
With 'Schicksalsmelodien', EISBRECHER renew a total of 14 songs by bands and artists we all know from times past and other contexts. For many, these are actually fateful melodies that determined their youth and had a lasting impact on their later life. This also applies to the two EISBRECHER heads, as Noel Pix explains using the example of FALCO's 'Out Of The Dark': "I was able to experience FALCO live while I was still alive, in 1985 in Munich in the Alabamahalle as part of the "Falco 3" tour. At that time it was just getting started for the first English-German rapping Austrian megastar, who managed to make the boring German language sound sharp and sexy. An EISBRECHER version of his mythical final hit had to be easy; like no other, he has shaped that special kind of German-language music that we like so much at EISBRECHER: joke, charm, dada, gaga, heart and pain, drama and irony!"
'Schicksalsmelodien' frees former success numbers from their original environment and transforms them into a new, EISBRECHER-typical sound cosmos, from FALCO to DIE ÄRZTE, from POWERWOLF to HANS ALBERS / EXTRABREIT, from RIO REISER to WARLOCK. The first single 'Skandal im Sperrgebiet', originally published by the SPIDER MURPHY GANG in September 1981 during the heyday of the Neue Deutsche Welle, does not lose any of its tongue-in-cheek humour even with EISBRECHER and at the same time gains even more depth and contemporary contours.
Wesselsky: "Skandal um Rosi! Insane song, a scandal about the scandal. Back then you couldn't simply say "whore". Tell that to a crazy German rap kid from today. Back then, in the time of innocence, I got the disc for my 11th birthday. I was into IRON MAIDEN, AC / DC, SPIDER MURPHY GANG, ELO and FALCO. Yes, it was possible back then! How loudly and how gladly we screamed "whores" in rebellious and system-contemptuous ways at school parties or in the children's room. Resistance and revolt in 1981!"
From the same era comes 'Anna Lassmichrein Lassmichraus' by TRIO, the HANS ALBERS classic 'Flieger grüß mir die Sonne', which EXTRABREIT made their own hymn in 1980, 'Goldener Reiter' by JOACHIM WITT, who became a star overnight with his debut single, and RHEINGOLD's 'Das steht ihr gut'. A bit later in the 80s later, hits like 'Disco in Moskau' by DIE TOTEN HOSEN, the KRAFTWERK / DEPECHE MODE homage 'Bitte, Bitte' of DIE ÄRZTE, and RIO REISER's fatalistic 'Menschenfresser' were created.
Wesselsky: "We want to bring people to the songs who otherwise might not have thought of listening to something like that. There is a tremendous amount of time between the original versions of our cover tracks and the now and here. Everyone is happy about the grandiose insight: No matter who does what and how, no matter whether from your own pen or not, the main thing is great, fat and loud and with respect for the original."
"Great, fat and loud", this motto generally applies to the EISBRECHER career, which is full of success: founded in 2003 by Alex Wesselsky and Noel Pix, the band has so far released seven studio albums, a live disc, a live DVD and two best-of compilations. Their albums 'Die Hölle muss warten' (2012), 'Schock (2015) and 'Sturmfahrt (2017) all reached the Top 3 of the album charts ('Sturmfahrt' even Top 1!) and were - inclusive three-person reinforcement by Jürgen Plangger (guitar), Rupert Keplinger (bass) and Achim Färber (drums) - the basis for real triumphal processions through Germany. The "Sturmfahrt Tour" in September / October 2017 was the most successful concert trip in the band history so far with bursting and partially sold-out venues from Munich to Hamburg, from Berlin to Oberhausen, from Hannover via Dresden to Stuttgart. There are also special guest appearances with the Scorpions and ALICE COOPER as well as festival participation in, among others, Wacken (D), Hellfest (F), Graspop (B), Greenfield (CH), Nova Rock (A), Rock for People (CZ) , Deichbrand (D), Summer Breeze (D), RockHarz (D), Mera Luna (D), With Full Force (D), Bospop (NL) or Werner Rennen (D). So it's no wonder that EISBRECHER were nominated for an Echo and for the Metal Hammer Award in the category "Best Rock Band National" in 2018.
'Schicksalsmelodien' will be released in October 2020, and the next studio record will follow in March 2021. Wesselsky promises "the toughest and most brutal and most experimental and traditionally untraditional EISBRECHER album in our history, fully anchored in the here and now, a sympathetic weird contemporary witness of the last two to three years." Just a few days after its release, EISBRECHER will go on a European tour, take part in various festivals in the summer of 2021 - the band has already been confirmed as headliner at many of them - and go on a major tour through Germany in November 2021 (all dates see below). So the signs at EISBRECHER are still pointing to storm, with real 'Schicksalsmelodien' and big plans for the near future!
Tracklist

01. Skandal im Sperrbezirk (Spider Murphy Gang)
02. Anna Lassmichrein Lassmichraus (Trio)
03. Disco in Moskau (Die Toten Hosen)
04. Out Of The Dark (Falco)
05. Stossgebet (Powerwolf)
06. All We Are (Warlock)
07. Goldener Reiter (Joachim Witt)
08. Freiflug (Megaherz)
09. Bitte, Bitte (Die Ärzte)
10. Eins, Zwei, Polizei (Mo-Do)
11. Flieger grüß mir die Sonne (Hans Albers)
12. Menschenfresser (Rio Reiser)
13. Das steht ihr gut (Rheingold)
14. Schwarzes Blut (ASP)
15. Schicksal
LIVE 2021

March 18, 21 -Innsbruck (A) | Music Hall
March 19, 21 - Zurich (CH) | Xtra Limmathaus
March 20, 21 - Antwerp (B) | Trix
March 21, 21 - Eindhoven (NL) | De Effenaar
March 23, 21 - London (UK) | O2 Academy Islington
March 25, 21 - Paris (F) | La Machine du Moulin Rouge
March 26, 21 - Strasbourg (F) | La Laiterie
March 27, 21 - Lyon (F) | CCO Villeurbanne
March 28, 21 - Barcelona (ES) | Razzmatazz2
April 30, 21 - Losheim am See (D) | Hexentanz (Headliner)
June 4, 21 - Wolfhagen (bei Kassel) (D) | Kulturzelt (Headliner)
July 17, 21 - Niedergörsdorf (D) | 30. Motorcycle Jamboree (Headliner)
July 18, 21 - Augsburg (D) | Sommer am Kiez (Headliner)
July 35, 21 - Cologne (D) | Amphi Festival (Headliner)
Aug 19, 21 - Dinkelsbühl (D) | SummerBreeze (Headliner)
Aug 21, 21 - Busdorf (D) | Baltic Open Air (Headliner)
Sep 18, 21 - Neu-Ulm (D) | Volle Kraft Voraus Festival (Headliner)
Nov 5, 21 - Bochum (D) | RuhrCongress
Nov 6, 21 - Dresden (D) | Alter Schlachthof
Nov 7, 21 - Berlin (D) | Columbiahalle
Nov 11, 21 - Fürth (D) | Stadthalle
Nov 12, 21 - Hannover (D) | Swiss Life Hall
Nov 13, 21 - Munich (D) | Zenith
Nov 19, 21 - Wien (A) | Gasometer
Nov 20, 21 - Leipzig (D) | Haus Auensee
Nov 26, 21 - Hamburg (D) | edel-optics.de Arena
Nov 27, 21 - Ludwigsburg (D) | MHP Arena
Nov 28, 21 - Wiesbaden (D) | Schlachthof
Source: Press Release