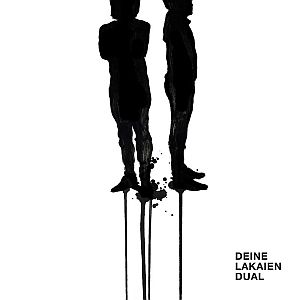 If the year 2020 has taught us one thing, it will all turn out differently than you think - and also planned. Thanks to Corona, many of DEINE LAKAIEN's original intentions and plans have been completely thrown overboard - from the postponed autumn tour to the announcement and completion of the upcoming, now tenth studio album by the legendary German electronic avant-garde duo, which was actually planned for this spring. But now the time has finally come, we finally have all the puzzle pieces together and finally the good news can be shared with everyone:
On Friday, April 16, 2021, 'Dual' will be released, by far the most elaborate studio album in DEINE LAKAIEN's more than 35-year history, funded by the "Initiative Musik gemeinnützige Projektgesellschaft mbH mit Projektmitteln der Beauftragten der Bundesregierung für Kultur und Medien". How so and why?
Because Ernst Horn and Alexander Veljanov dared to write a double concept album for the first time. Because, for the very first time, the Munich and Berlin resident recorded an album with ten songs that both, or just one of the two, individually excited, touched, inspired, shaped or influenced. The duo treated all of these pieces with great respect. The lackeys have tried to rearrange the original compositions in their typical sound hemispheres. The highlight, however, is that the other album again contains ten completely new original compositions, each of which relates to one of the songs that will be covered:
Regardless of whether it is text, music, mood or content. This was an immensely exciting challenge for Veljanov and Horn and DEINE LAKAIEN are very happy that this Friday, November 13th, 2020, 'Because The Night' will be the first single from the upcoming studio double album to which it there will also be a special lyric video. One month later, on Friday, December 18, 2020, the second single will be released; a brand new song from the Dark Wave luminaries, which in turn refers to the 'Because The Night' written by Patti Smith and Bruce Springsteen. The name of this piece will be revealed elsewhere in due course.
The pre-sale of albums for 'Dual' will also start today, November 13th, 2020: The double album will be available as a 2CD version in a media-book, as a double LP version in a gatefold cover, as a limited hardcover art book and also as a strictly limited Complete Box Set, which in turn is exclusive and only in this box available accessories is included. Of course, 'Dual' will also be available on April 16, 2021 as a download and via all streaming portals. 'Dual' will be released in Germany via Chrom Records / Odyssey Music Network / Rough Trade. With Prophecy Productions, LAKAIEN have now found a suitable and strong partner for the international market.
For those who have not yet noticed the COVID-19 related tour postponement, here are all the new tour dates for 2021 at a glance:
16 Oct 2021 – Wiesbaden, Kurhaus
17 Oct 2021 – Ludwigsburg, Scala
19 Oct 2021 – Leipzig, Gewandhaus
28 Oct 2021 – Cologne, Tanzbrunnen
29 Oct 2021 – Bremen, Metropol Theater
04 Nov 2021 – Dresden, Kulturpalast
05 Nov 2021 – Berlin, Admiralspalast
Tickets are available at all known pre-sale offices.
Source: Press Release