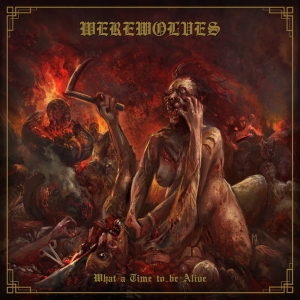 Australia's most Extreme Metal sons, WEREWOLVES, have released the second single from their upcoming sophomore album, 'What A Time To Be Alive'. 'Antisocial' is a three-and-a-half-minute shot of uncompromising Death Metal from the trio, made up of Dave Haley (PSYCROPTIC, RUINS, KING), Matt Wilcock, and Sam Bean (both of THE BEZERKER, THE ANTICHRIST IMPERIUM).
The band formed in 2019 and their first album, 'The Dead Are Screaming', was released in April this year around the start of the early lockdowns. These don't hang about. They formed in a week and then recorded their debut in a weekend before signing a three-album deal with Prosthetic Records. Positive reviews have come from various magazines of the metal persuasion so far things look good for this Victorian State trio.
You can stream 'Antisocial' on Spotify, Apple Music and Bandcamp.
Pre-order What A Time To Be Alive, ahead of its release on January 29, 2021: http://smarturl.it/Werewolvesdeathmetal
Watch the music video for 'Antisocial' below