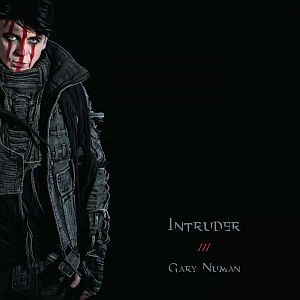 'Intruder' is the first new song that icon GARY NUMAN released on Monday, Jan 11, 2021 via BMG as lead single from his new studio album. His last album 'Savage: Songs From a Broken World', which was a big success in the UK and reached position 2 of the charts, came out in 2017. The upcoming album 'Intruder' is released on May 21, 2021 as his 18th solo album. For 'Intruder', Gary is back working with producer Ade Fenton, who has already produced four critically acclaimed albums for Numan: 'Jagged', 'Dead Son Rising', 'Splinter' and 'Savage'.
While 'Savage' portrayed the earth as a barren wasteland, in which humanity and culture were largely destroyed by the effects of global warming, 'Intruder' presents a fresh but complementary narrative. It is a philosophical investigation into a possible future apocalypse: the planet can only survive by purifying its inhabitants. Numan explains: "'Intruder' looks at climate change from the perspective of the planet. If the earth could speak and feel like we do, what would it say? How would it feel? For the most part, the songs try to be that voice or at least express what I think the earth needs to feel right now."
The title track and lead single offer a tantalizing taste of what to expect. While strict synthesizers emerge like shadows and industrial beats explode, Numan's seductive hooks loom like a beacon in the dark. It's visionary, wild and fascinating: three qualities that have become hallmarks of the musician's influential career. The song, he says, finds "the earth angry and hostile and more than ready to fight back". It is no surprise that the current circumstances are partly reflected in the album. This becomes particularly clear with the song 'The Gift', which develops from a meagre start into a Middle Eastern sound motif. It envisions Covid-19 as the first weapon the planet uses to eradicate humanity and allow it to thrive again.
With a career spanning nearly four decades, GARY NUMAN's approach to electronic music remains an inspiration to artists of all genres and eras, from stadium greats like DEPECHE MODE, PRINCE and NINE INCH NAILS to alternate heroes like BECK, DAMON ALBARN and MARILYN MANSON. Even KANYE WEST is indebted, and DAVID BOWIE once credited him with "two of the best songs" in British music. Gary had 23 top 40 singles and 15 top 40 albums in the UK. The British electronic pioneer also won the Inspiration Award for songwriting and composition at the Ivor Novellos in 2017. In 2020, Gary published his critically acclaimed autobiography, '(R)evolution.'
The single 'Intruder' can be watched below and listened to here: https://garynuman.lnk.to/IntruderSinglePR:
The album 'Intruder' will be released on CD, deluxe CD, black double vinyl in heavyweight, double vinyl with picture CD and digital formats. There will also be three exclusives full-colour double vinyl formats: red (in select indie stores), silver (from Amazon) and gold (in GARY NUMAN's official store). In his official shop, only the album will be released on cassette. Pre-order the album here: https://garynuman.lnk.to/IntruderPR
Source: Press Release