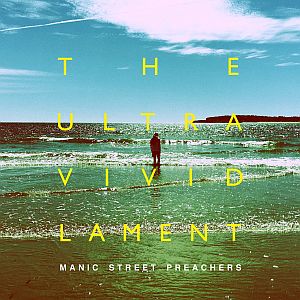 MANIC STREET PREACHERS have announced their 14th studio album. 'The Ultra Vivid Lament' will be released on September 3, 2021 via Columbia / Sony Music on CD, (exclusive) vinyl and digitally. As a first foretaste, the band is now presenting the new track 'Orwellian'. Stream 'Orwellian' and pre-order 'The Ultra Vivid Lament' here: https://ManicStreetPreachers.lnk.to/theultravividlament
MANIC STREET PREACHERS say about 'Orwellian': "The track is about the battle to claim meaning, the erasing of context within debate, the overriding sense of factional conflict driven by digital platforms leading to a perpetual state of culture. As with many songs on the record, it was written on the piano by James Dean Bradfield. Musically, it echoes ABBA, the majesty of Alan Rankine's playing in the ASSOCIATES and TALK TALK's 'It's My Life' with a Lindsey Buckingham guitar solo. It felt like the perfect sonic and lyrical introduction to 'The Ultra Vivid Lament'."
'The Ultra Vivid Lament' is both reflection and reaction; an album that looks in isolation at a messy room, obscured by often painful memories, to focus on an open window, the framework for shimmering views of the sea and the infinite Heaven blending land. The eleven tracks of 'The Ultra Vivid Lament' marry introspection, silent anger and sublime, irresistible pieces. These elements run through the entire album, from the atmospheric hum of the opening "'Snowing In Sapporo' to the galloping 'The Secret He Had Missed', a push-and-pull duet in the form of an imaginary dialogue between the Welsh artist siblings Augustus and Gwen John; about the sublime musing of 'Diapause' and stoic wishful thinking in 'Happy Bored Alone'.
Musically, 'The Ultra Vivid Lament' was inspired by the record shelf of the formative years (ABBA, post-Eno Roxy, The Bunnymen, REM of the Fables era, Lodger). The result can only come from the combined springs of James Dean Bradfield and Nicky Wire and Sean Moore - together one of the UK's most consistently brilliant Rock and Roll bands for over three decades.
As a departure from its predecessor ('Resistance Is Futile', which was released in 2018), 'The Ultra Vivid Lament' is the first MANIC STREET PREACHERS album which was initially created primarily on the piano instead of the guitar. It was recorded in the winter of 2020/21 in Rockfield, Monmouth, Wales and in the band's own "Door to the River" studio in Newport, together with long-term collaboration partner Dave Eringa (THE WHO). David Wrench (BLOSSOMS, FRANK OCEAN, ARLO PARKS) then did the mix. Two guest singers refine the work: Julia Cumming (SUNFLOWER BEAN) on 'The Secret He Had Missed' and Mark Lanegan on 'Blank Diary Entry'.
In autumn 2021, MANIC STREET PREACHERS will play a 14-date UK tour with a new album in their luggage. THE ANCHORESS will accompany the tour as support.
'The Ultra Vivid Lament' tracklist

01. Still Snowing In Sapporo
02. Orwellian
03. The Secret He Had Missed
04. Quest For Ancient Colour
05. Don't Let the Night Divide Us
06. Diapause
07. Complicated Illusions
08. Into The Waves of Love
09. Blank Diary Entry
10. Happy Bored Alon
Manic Street Preachers online: Website: https://www.manicstreetpreachers.com / Facebook: https://www.facebook.com/manicstreetpreachers
Source: Press Release