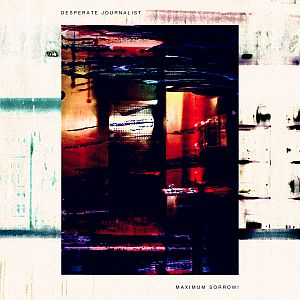 It was Easter 2021 - Good Friday to be precise - when the Noir-Alt Goth unskilled workers DESPERATE JOURNALIST returned to the scene with a brand-new single called 'Fault'. And it was accordingly the first track of their thoroughly blunt fourth album 'Maximum Sorrow!', which was recorded entirely in Crouch End in the midst of the Covid pandemic and will be released on July 23, 2021.
Driven by Simon Drowner's catchy bassline, the quartet shows itself in immaculately brutal form, with banshee howls and self-tearing lyrics by singer Jo Bevan: "And those teenage hang-ups are hard to beat / When your closet is piled up with defeat," she snorts a particularly prickly spot, while their guitarist Rob Hardy and drummer Caz Hellbent can only pour fiery oil into the acoustic flames.
In May, the second single, 'Personality Girlfriend', was released as a video, a song marked by a sardonic, melody-loving cheek. Like much of the rest of the album, 'Fault' and 'Personality Girlfriend' are both playful and - like the finest glass of beer - half full of anger and swirling 'Heart Of Glass' synths. These are DESPERATE JOURNALIST in hyperdynamic form, super smooth, but never pathologically smooth; ambitious and expansive, but still self-indulgent and DIY through and through.
If the title 'Maximum Sorrow!' is so meaningful, then the music of DESPERATE JOURNALIST is bursting with old Rock muscles that have been built up in seven years of tireless appearances and releases like a wild panther on the prowl. There are traditional desperate journeys into the heart of darkness - see the doomy-incisive disintegrations of 'Armageddon'. And there are brilliantly illuminated spots of light: the impotent elegance of 'Utopia', the calm of 'Formaldehyde', a tragic finale on every other album - here as the opener. No wonder singer Jo says in her traditional Heart-of-Sleevenotes that making the album "required a lot of restraint on our part."
Praise also for the expansive, epic chorus bursts from 'Everything You Wanted' and the spectacularly bittersweet yearnings of 'What You're Scared Of', which are filled with scattered sugar cubes, whereas 'Poison Pen' manages to draw derogatory lines like "You are oh so tall and sesquipedalian", without sounding like an inflated ass. In the golden days of concerts, we would have called these songs show stoppers, which is pretty impressive considering that DESPERATE JOURNALIST haven't played a show in about 18 months. What really stands out is that the entirety of 'Maximum Sorrow!' Sounds so exuberant and lively, but since it was created entirely in the confines of a closet, it has never been played live - that really requires some creative skills.
DESPERATE JOURNALIST have been raging against the corporate apparatus with their melodramatic mixture of traumatized guitars and artfully broken vocals for what felt like eons. In fact, 'Maximum Sorrow!' will be their fourth full album in the six years since the devilish 'Desperate Journalist' debut was released in 2015. The tumultuous second album 'Grow Up' was released in 2017, while in 2019 the search for the stellar 'The Search For The Miraculous' was heard far and wide.
Throw in a few more lively five-track EPs ('Good Luck' and 'You Get Used To It') and their melody-shattering skills are visible to all. At the end Jo whips and sings: "And the trash all flutters / And you paint it with wings / And the shopfronts shuttered / And you're straining to sing / Was it worth it? Was it worth it?" Well, what do you think?
Tracklist

01. Formaldehyde
02. Fault
03. Personality Girlfriend
04. Armageddon
05. Fine in the Family
06. Utopia
07. Everything You Wanted
08. Poison Pen
09. The Victim
10. What You're Scared Of
11. Was It Worth It
Pre-order vinyl here: https://www.finestvinyl.de/rock-vinyl/desperate-journalist-maximum-sorrow/?item=146673
Source: Press Release