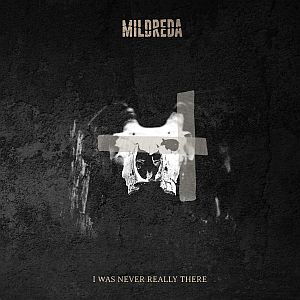 Belgian underground buzz MILDREDA have released the first single 'Reinvention of Pain' taken from the dark electro project's forthcoming physical debut full-length "I Was Never Really There", which is slated for release on August 20.
MILDREDA comment: "To me, the coming album is the first proper MILDREDA release that people will be able to hold in their hands apart from my early cassettes", project-founder Jan Dewulf offers a teasing glimpse onto the great music waiting to be unleashed: "I was quite inspired by what I like to call the 'Vancouver sound', which of course includes SKINNY PUPPY and FRONT LINE ASSEMBLEY, but probably even more NUMB came into my mind. I felt a strong need to blend noise with atmosphere."
Tracklist

01. Backfire
02. Reinvention of Pain
03. Echoes (feat. Dirk Ivens)
04. Inner Judgement
05. Liaisons Dangereuses
06. Erased (feat. Numb)
07. In the Vacuum of Your Mind
08. Through the Fire
09. Blame It on the Moon (feat. Cyan)
10. Opposite Choice
11. Dream Machine
Release date: August 20, 2021
Seemingly out of nowhere, MILDREDA detonate onto the dark electro scene with 11 massive tracks on their physical debut album that breathe new life into this genre. 'I Was Never Really There' comes solidly based on the spirit of the 90s and takes influences from both Belgium EBM legends such as THE KLINIK as well as from such Vancouver giants as SKINNY PUPPY and FRONT LINE ASSEMBLY. Yet the album's crushing sound comes state-of-the-art 2021 with LEÆTHER STRIP's Claus Larsen signing responsible for the excellent mastering.
The track 'Reinvention of Pain' is available now
'I Was Never Really There' offers an amazing variety of songs that reaches from the big electro ballad 'Dream Machine' via a mid-tempo club-hammer such as 'Liaisons Dangereuses' to an explosive firework of adrenaline infused power-tracks. To top this delicious brew off, remarkable guest appearances add extra spice to MILDREDA's all over tasty record: 'Erased' features a production collaboration with NUMB's Don Gordon, and even Jan's original "muse" Dirk Ivens (THE KLINIK) and Cyan from THE ETERNAL AFFLICT contribute to this album with their distinct vocals.
At closer inspection, it is far less surprising that MILDREDA deliver such an outstanding record. The band is the brainchild of Jan Dewulf. In the early 90s at the tender age of 15 years, Jan got so entirely hooked by compatriots such as THE KLINIK with their cold and oppressive type of sound typical for the Belgian cult acts of this period that he borrowed a keyboard from a friend and spent his holidays washing dishes at a pizza place to afford some studio gear.
The 16 years old Belgian's first full-length under the MILDREDA banner was the self-released tape 'II Castrato' in 1995. With a steep learning curve from his raw first effort, this was quickly followed by a second cassette entitled 'De Laffe Denker' in 1996, which got widely copied and handed around in electro circles. MILDREDA gained a strong following and excellent reputation in the Belgian scene and beyond, which led to live performances sharing stages with such renowned acts as PLASTIC NOISE EXPERIENCE, TERMINAL CHOICE, COVENANT, VNV NATION, and many others.
Despite or maybe because of his astonishing success at such a young age, Jan Dewulf decided to put MILDREDA on hold after feeling somewhat disillusioned by the business side of the scene. In following years, Jan started a new project under the moniker DISKONNEKTED, which focused more on dance influences than continuing on the dark electro path.
Over time, MILDREDA continued to be a talking piece within electro circles and despite their absence grew their following by word of mouth alone. Encouraged by none other than Dirk Ivens, who personally asked Jan to revive MILDREDA at a party and by continued underground support, Jan Dewulf returned with his third full-length, the digitally released 'Coward Philosophy' in 2016. His deep love for clinical dark sounds had been re-kindled.
Now, MILDREDA are preparing to blast the world with their physical debut album, "I Was Never Really There", which is the collective sum of the mastermind's exponentially grown musical experience of the last decades combined with a burning desire to unleash another ripping electronic beast! Belgian dark industrial sound is coming home again!
Album Details

Line-up

Jan Dewulf – everything
Christophe Salvatore – live keyboards
Guest appearances

Dirk Ivens (THE KLINIK, DIVE) – guest vocals on 'Echoes'
Cyan (THE ETERNAL AFFLICT) – guest vocals on 'Blame It on the Moon'
Don Gordon (NUMB) – additional production on 'Erased'
Style
Dark Electro
Mixed, recorded & produced by Jan Dewulf at Cyberflesh Loft, Oostende, Belgium
Mastered by Claus "Leæther Strip" Larsen at the Strip Farm, Denmark
Cover photography by Zsolt T. Szajbely
Artwork by Jan Dewulf
Links: www.mildreda.com / www.facebook.com/officialmildreda
Pre-sale link: http://lnk.spkr.media/mildreda-i-was-never-really-there
Available format: 'I Was Never Really There' is available on Digipak CD
Source: Press Release