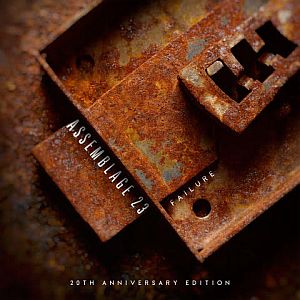 20 years ago, the album 'Failure' provided ASSEMBLAGE 23 with their international breakthrough. Since then, tracks like 'Awake', 'Disappoint', and 'Naked' have become indispensable to electronic music. Many music fans, DJs and journalists had already fallen love with ASSEMBLAGE 23's debut 'Contempt', but when 'Failure' was released in 2001, it turned out to be a seminal work that no aficionado of electronic music could overlook.
Reason enough for a re-release as a 20th anniversary edition. As could be expected, mastermind Tom Shear took the chance to provide all the tracks with a fresh new mix - and to compile a bonus CD with remixes that are really worth a listen. With their contribution, top class artists such as SUICIDE COMMANDO, CLAN OF XYMOX, ROTERSAND, Daniel Myer or P. Codenys of FRONT 242 show their respects to this milestone album.
The bottom line: This double digipak album is a must for every fan… and even more so for everyone who missed out on 'Failure' on its original release!
Tracklist

CD1

01. Naked (2021 Mix)
02. I am the Rain (2021 Mix)
03. House on Fire (2021 Mix)
04. Tried (2021 Mix)
05. Disappoint (2021 Mix)
06. Divide (2021 Mix)
07. Longevity (2021 Mix)
08. Silence (2021 Mix)
09. Awake (2021 Mix)
10. King of Insects (2021 Mix)
CD2

01. Naked [Daniel Myer Rmx]
02. I am the Rain [Interface Remix]
03. House on Fire [Antiscion Remix]
04. Tried [Mari Kattman Remix]
05. Disappoint [Rotersand Rework]
06. Divide [Clan of Xymox Remix]
07. Longevity [The Gentry Remix]
08. Silence [Suicide Commando Remix]
09. Awake (242mix by P. Codenys)
10. King of Insects (Assemblage 23 Remix)
Source: Press Release