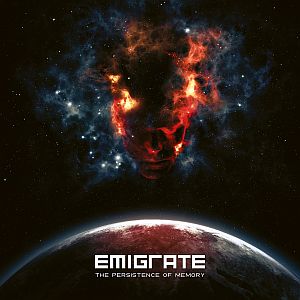 The new album 'The Persistence Of Memory' to be released on CD, vinyl and digital on Nov 5, 2021 - second single 'You Can't Run Away' to be released on Oct 6, 2021 - Video premiere at 4 p.m. on Oct 6, 2021
'You Can't Run Away' is the second single from the upcoming album 'The Persistence Of Memory'. The video for this piece, which premieres on October 6 at 4 p.m., underlines the magic of this song in impressive pictures with a subtle David Fincher aesthetic. Rich colors, apocalyptic mood, Sin City staging, perfectly tailored to EMIGRATE. At EMIGRATE there are no limits, no barriers. Everything is possible, sounds are not limited.
Watch 'You Can't Run Away'
Pre-order or stream the song: https://smg.lnk.to/Emigrate_YCRA
EMIGRATE. The one-off project has become more than that. Much more. The three albums 'Emigrate' (2007), 'Silent So Long' (2014) and 'A Million Degrees' (2018) prove that behind EMIGRATE with Richard Zven Kruspe there is an extremely creative mind who needs the freedom, alongside RAMMSTEIN to be able to realize musically in another way. At EMIGRATE there are no borders, no barriers, no barriers. Everything is possible, sounds are not limited - this is particularly evident in 'The Persistence of Memory', the new studio album that will be released on November 5.
'The Persistence Of Memory' is a very special jewel, because the nine songs combine ideas that Richard has collected over almost two decades. The style is therefore given: Industrial Rock, Rock with electronic elements, always melodious, rousing, deep. The pieces almost saw the light of day only as an accessory: the original idea was to release a vinyl box of the first three albums with an additional record. This bonus LP was supposed to bring together songs that had not been released.
Richard plunged into his hard drives and heard ideas, songs and lyrics that absolutely wanted to be made public. Kruspe caught fire, worked his way deep into his musical images of today, yesterday and the day before yesterday. "A good idea remains a good idea", he is convinced and so he rearranged, rewrote the lyrics, recorded parts freshly, had the mix renovated and gave the nine existing songs a contemporary yet timeless look. The songs were too good to stay in the archives.
This time it shouldn't be too complex, the creativity flows, so Kruspe focused his main focus on pure, raw EMIGRATE songs. Kruspe sums up: "These songs were created at a certain point in my life, but ideas don't have an expiration date. Sounds, lyrics and themes, on the other hand, do." 'Freeze My Mind', for example, is one of the very first EMIGRATE songs, written in 2001. Now, 20 years later, it sounds fresh, close to the present and yet clearly like EMIGRATE. So it is with the entire album. It's an up and down of supposedly known song structures, melodies, elements and new aspects, influences and musical challenges. You can literally hear the lust, the motivation, the depth that Kruspe put into these songs again.
The cover artwork is big, because like the debut and 'A Million Degrees' we see Kruspe's head on the cover. This time detached, floating alone, surrounded by fields of stars, he gazes out of the atmosphere at the earth. A symbol for the universal that plays such a big role in 'The Persistence Of Memory'. "It's about creating worlds and looking at things from a different perspective," Kruspe explains. 'The Persistence Of Memory' is primarily Kruspe's world of thought, but of course EMIGRATE also lives from team performance. Captain Kruspe needs reflection from other people, diverse opinions, points of friction. "This is essential for me to get ahead. A vacuum would be a standstill, "he says of the collaboration with his colleagues.
In addition, the exchange gives him new impulses, an important elixir for the cosmopolitan and still risk-ready Kruspe. The intensive work with the new EMIGRATE keyboardist Andrea Marino, who also works as a DJ in his home country Italy, rekindled Kruspe's love for electronic music, and he is already thinking into the future beyond the release of 'The Persistence Of Memory'. "Maybe the new album is a conclusion and will help me push an era aside and open new doors." Who knows better than Kruspe whether the future of the band lies far away from rock music. 'The Persistence Of Memory', like every other EMIGRATE record, lets you hear what it looks like in Kruspe's mind. "I do hope that after listening to me you got to know me better," notes Kruspe and is pleased that the possibilities of interpreting the EMIGRATE songs can be changed individually and that listeners are touched by the songs.
So far and yet so close. EMIGRATE 2021.
Watch the first track 'Freeze My Mind' here: https://youtu.be/mGARgrFwFzE
Stream or download it here: https://smg.lnk.to/emigrate_freezemymind
Pre-order the album: https://smg.lnk.to/Emigrate_ThePOM_PreOrder
Social media: www.instagram.com/emigrateofficial /www.facebook.com/Emigrate
Source: Press Release