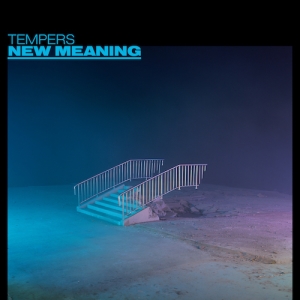 The New York duo TEMPERS - consisting of Jasmine Golestaneh and Eddie Cooper - has specialized in elegant, poetic Synth Pop with little brightness. Now the band has announced that their new album 'New Meaning' will be released on April 1st via DAIS, and on the occasion of the announcement they have released the first single 'Unfamiliar' from the album.
Jasmine Golestaneh, the singer from TEMPERS, reveals about the track: "'Unfamiliar' explores the idea of progress, and what qualities might be needed to actualize it. So often change is just a rebranding of the same structures and conventions, history repeating itself. But also on a personal level, it's hard not to repeat mistakes, habits are so seductive. I was thinking about the power of liminal space, and how building a tolerance to unfamiliarity might be a revolutionary act."
In the early summer of 2022 TEMPERS will be on tour to Europe, so far an appearance of the duo in Berlin has been confirmed: June 3rd, 2022: Berlin, Kantine am Berghain. Further dates are being planned.
With their self-produced album 'New Meaning', TEMPERS present an album about navigating the unknown, coping mechanisms and exploring nature. The ten songs reflect on the importance as access to liberation in times of transition and loss. They speculate about the transformative potential that exists alongside grief over life in a world in constant crisis.
This is a decidedly night music, elegantly introspective and quietly intense, born from the "life in a society that is still a dream of itself". Tracks like 'Unfamiliar', 'Nightwalking' and 'Sightseeing' distil the TEMPERS template for icy Pop perfection, drum machinery framed by trembling reverberation, Golestaneh's voice both ethereal and towering, inside and above at the same time. Cooper speaks of production ideas in relation to the "human architecture" that breathes life into the precision of electronics, and of melodic intervals "exactly on the border between major and minor, strict and sweet".
For other pieces, Golestaneh and Cooper's production tends more towards grayscale, from New Wave shadow play ('Carried Away') to depressive disco ('In And Out Of Hand') to an elegy of hopeful resignation ('Secrets And Lies '). The themes of the album are also reflected in the atmospheric cover photo Lost Hotel (2016) by the Beijing photo artist Chen Wei. 'New Meaning' is a document of bifurcating paths and fleeting transcendence, a celebration of instability and impermanence, an embrace of the "constant state of becoming". Ten hymns for a derailed age, fleeting and sympathetic, wandering through a "tormented city" towards a nameless future heading for rebirth: "When I have / when I have no name / my joy is blinding".
There is an accompanying book for the album with original graphics and texts. Jasmine has created a handcrafted collage for each song, which translates the sonic landscapes and lyrical themes into concrete images. The book was published by Old Habits Press.
Tracklist

01. Nightwalking
02. Unfamiliar
03. Multitudes
04. In And Out Of Hand
05. It Falls Into You
06. Secrets and Lies
07. Here Nor There
08. Song Behind A Wall
09. Carried Away
10. Sightseeing
Source: Press Release