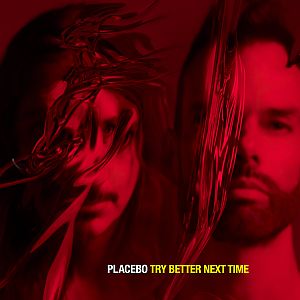 PLACEBO have released a live video for their new single 'Try Better Next Time' on 21st January 2022. 'Try Better Next Time' was released last week and follows new tracks 'Beautiful James' and 'Surrounded By Spies'. The latter announced the band's long-awaited eighth studio album - their first together in almost a decade - 'Never Let Me Go'.
'Try Better Next Time' is another example of 'Never Let Me Go's frank and honest portrayal of our modern times. While the opening single 'Beautiful James' was a stern commentary on the dissemination of ignorant opinion and the follow-up track 'Surrounded By Spies' explored themes of technical overload, 'Try Better Next Time' - the album's poignant centrepiece - could easily be misinterpreted as an apocalyptic vision of the future. Instead, the band focuses less on the end and more on a new beginning. It is a hymn to the end of a world as we know it - rather than its complete end - and a celebration of the possibility of what may come next, whether humanity has a seat at the table or not.
When Brian Molko thinks about how we "grow fins, go back in the water," he has the common good in mind. It is the shelving of the ego in the face of impending environmental catastrophe, in acknowledgment of all that humanity has done to the planet. The world keeps turning, whether influenced by humanity or not. To this he says: "It is not the end of the world, but only the end of mankind, a difference which we cannot tell in our exaggerated hubris. Mother Nature has become extremely tired of us. 'Try Better Next Time'."
As we approach the release of 'Never Let Me Go', PLACEBO continue to view their issues through as broad a lens as possible. Details are worked out sharply, but always with a larger picture in mind. Sometimes their world is drawn as one devastated by the effects of mounting crises. But it's also a document on how to hold on to each other and nurture relationships, even when it feels like a losing battle. 'Never Let Me Go' is a place to face the harsh realities while holding on to the hope that something better is to come.
The official clip for 'Try Better Next Time' can be found here:
PLACEBO have also announced a major European tour for fall 2022, here are the dates for Germany-Switzerland-Austria:
01.10. Frankfurt, Festival Hall
04.10. Stuttgart, Schleyer Hall
06.10. Berlin, Mercedes Benz Arena
19.10. Leipzig, Quarterback Real Estate Arena
22.10. Hamburg, Barclaycard Arena
26.10. Munich, Olympic Hall
29.10. Zurich, Samsung Hall
02.11. Vienna, Stadthalle
07.11. Cologne, Lanxess Arena
Source: Press Release