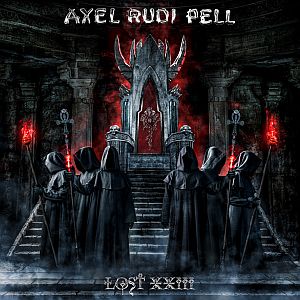 Eagerly awaited by the fans, delivered on schedule by the ARP band: The new album 'Lost XXIII' by Bochum guitarist, songwriter and bandleader AXEL RUDI PELL will be released on April 15, 2022. It includes ten brand new songs (plus intro) and will be released as digipack, CD, vinyl double album, strictly limited box set and in digital format. 'Lost XXIII' is Pell's 21st studio work and will be released - like all previous albums of his 33-year solo career - on Steamhammer / SPV.
The first single 'Survive' will be released on February 18, 2022, a deep melodic Hard Rock number with a guitar riff characteristic of PELL and a great melody as usual: "I'm sure that my fans will get exactly the song, on that they have been waiting for. 'Survive' is typical of the ARP band and is carried by the great voice of our singer Johnny Gioeli."
Speaking of which: the ARP band will continue to consist of Johnny Gioeli, bassist Volker Krawczak, keyboardist Ferdy Doernberg and drummer Bobby Rondinelli (ex-Rainbow) in 2022, a perfectly oiled hard rock machine that routinely implements PELL's compositions and at the same time refines them with their own trademarks. This also applies to the second single 'Down On The Streets', which will be released on March 25, 2022. "THIN LIZZY could also have had a hand in this," explains PELL with a wink and adds: "The lyrics are about the hard life on the street."
'Lost XXIII' was produced by AXEL RUDI PELL, Tommy Geiger mixed, the disc was mastered by Ulf Horbelt, the mystical cover artwork is again by Thomas Ewerhard (including GOTTHARD, EDGUY, SONS OF APOLLO). In spring and autumn 2022, the ARP band will be on a big tour again.
Tracklist

01. Lost XXIII Prequel (Intro) 01:47
02. Survive 05:02
03. No Compromise 04:57
04. Down On The Streets 04:46
05. Gone With The Wind 08:56
06. Freight Train 06:08
07. Follow The Beast 05:02
08. Fly With Me 05:42
09. The Rise Of Ankhoor 03:48
10. Lost XXIII 08:35
11. Quarantined 1 (Bonus Track CD Digipak) 07:03
'Lost XXIII' will be released on April 15, 2022 via Steamhammer / SPV in the following configurations:
Limited CD DigiPack (incl. poster and one bonus track)
CD Jewel Case
2LP Gatefold, 140 g, half red/half black vinyl, pockets printed inside
Limited Box Set (incl. limited CD digipack, 2 LP Gatefold with exclusive circular colour, red / black vinyl, high-quality framed art print, A1, double-sided poster, photo card, sticker)
Download / streaming
Pre-order link: https://smarturl.it/ARPLostXXIII
2LP Gatefold, exclusive colour edition, only available at Napalm shop
Pre-order link: https://napalmrecords.com/english/axel-rudi-pell
Exclusive CD/LP bundle with a t-shirt, only available at Steamhammer shop
Pre-order link: https://shop.steamhammer.de/artists/axel-rudi-pell/store
Tour 2022

April 18, 2022 Germany, Cologne – Essigfabrik
April 19, 2022 Germany, Saarbrücken – Garage
April 21, 2022 Switzerland, Bern – Bierhübeli
April 23, 2022 Germany, Singen – Stadthalle
April 25, 2022 Germany, Munich – Backstage
April 26, 2022 Germany, Langen – Neue Stadthalle
April 27, 2022 Germany, Berlin – Huxleys
May 3, 2022 Germany, Hamburg – Große Freiheit 36
May 4, 2022 Germany, Hannover – Capitol
May 5, 2022 Germany, Karlsruhe – Substage
May 6, 2022 Germany, Leipzig – Hellraiser
May 8, 2022 Germany, Bochum – Zeche
Sep 7, 2022 Germany, Bochum – Zeche
Sep 8, 2022 Germany, Bremen – Aladin
Sep 9, 2022 Germany, Dresden – Tante Ju
Sep 13, 2022 Austria, Vienna – Szene
Sep 16, 2022 Germany, Memmingen – Kaminwerk
Sep 17, 2022 Switzerland, Pratteln – Z7
Sep 20, 2022 Germany, Aschaffenburg – Colos-Saal
Sep 21, 2022 Germany, Nuremberg – Hirsch
Sep 23, 2022 Germany, Erfurt – Central
Sep 24, 2022 Germany, Stuttgart – LKA Longhorn
Sep 25, 2022 Germany, Bochum – Zeche
Tour agency: www.continental-concerts.de
Source: Press Release