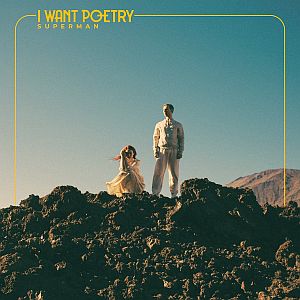 As I WANT POETRY, Tine von Bergen and Till Moritz Moll create international Pop with strong female vocals. The new single 'Superman' is an empowering song that encourages you to focus on yourself. 'Superman' reminds us that each of us has heroic powers: Standing up for ourselves, staying true to ourselves and holding on to what's important to us - that's our superpower.
For the production, I WANT POETRY brought none other than Roy Kerr on board. He has already worked with artists such as AURORA and LONDON GRAMMAR. A strong beat carries the song and radiates the power that comes from within. In between, soft organ sounds sound like the echo of a distant dream: in order to free ourselves, we have to leave the past behind us. In the music video, the young dancer Emphis expressively implements this transformation. With 'Superman', the band announces their new EP 'Solace', which will be released on May 20th, 2022.
Behind the name I WANT POETRY are singer / songwriter Tine von Bergen and pianist / composer Till Moritz Moll. With their visually powerful signature mix of atmospheric Dreampop, mental cinematic soundscapes and ethereally floating vocals, the duo, founded in 2018, quickly developed from an insider tip to a fixture within the German Electro Pop scene. On their tracks, I WANT POETRY invite their fans to atmospheric thought trips between the worlds of sound. An eternal interplay of warm nostalgia, an undercooled elegance and a light-flooded glimmer of hope that runs like a red thread through the new songs.
I WANT POETRY caused a sensation last year with their debut album 'Human Touch'. "... and above all lies the intoxicating trend-distance of one's own style; a fine elegance that one knows from really great Pop connoisseurs like TEARS FOR FEARS or WOODKID", writes the Freie Presse. They work together with internationally renowned acts and producers such as Kieron Menzies (LANA DEL REY), Roy Kerr aka MyRiot (London Grammar, Aurora), Rob Rox (Banks) and Michael Vajna (Malky). I WANT POETRY are winners of the Pop Music Saxony 2022 competition and have been nominated for the German Songwriting Awards with their song 'Solace'.
Source: Press Release